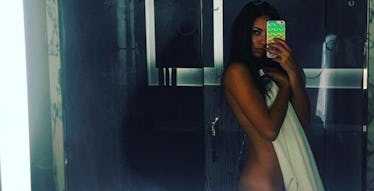 Adriana Lima Posts Completely Naked Photo On Instagram
Instagram
OH, GOOD MORNING.
While I was scrolling through Instagram and sippin' on my morning coffee, I came across a gorgeous new selfie from Adriana Lima. 
The 35-year-old model and mother of two blessed followers with a completely naked photo. She posed in front of a mirror wearing just a towel draped over her body.
YEAHHH, IT'S SEXY AF.
That's literally the opposite of what I look like in the morning.
Adriana captioned the photo,
I never post this kind of pictures, but here we go.
Wait, but uh, isn't she a Victoria's Secret Model? Hmm. Whatever, I won't question it.
Fans obviously went nuts. LOOK AT ALL THOSE EMOJIS. People are in love.
There were also a couple of comments about Adriana's rumored date night with Ryan Seacrest (or should I say "cheesedick"?).
A source told PEOPLE they went on a "romantic dinner to get to know each other outside of work" while in New York City.
She captioned the photo,
With the charismatic- handsome @ryanseacrest and the beautiful @alessandraambrosio. Com o querido @ryanseacrest e a bonita @alessandraambrosio #rio2016olympics
OK, "handsome." Is it getting hot in here? I need to take off my sweater.
Oh, Alessandra Ambrosio was there too, third-wheeling. GET OUT OF THE SHOT, GIRL. LET THEM HAVE THEIR MOMENT.
The rumors were dismissed by TMZ who said Ryan and Adriana are "just friends... for now."
I don't know what that means, but they would honestly be the most random celeb couple of all time.
Anyway, back to Adriana's selfie.
Hands down, the best comment went to this guy. MVP! MVP!
He loves his life.
Seriously Adriana, thanks for sharing how beautiful you look in the morning.
That's all the motivation I needed to shower, brush my hair and maybe put on mascara.
Haha, FML.
Citations: Adriana Lima Ryan Seacrest (TMZ)