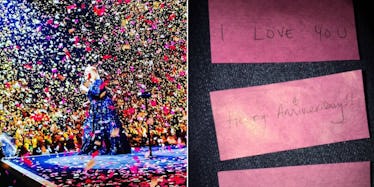 Adele's Boyfriend Wrote Cute Confetti Love Notes That Fell During Her Concert
Twitter
Adele is a queen, and she deserves to be treated accordingly.
In fact, her partner is well aware of how lucky he is to be involved with such an incredible woman and he recently proved himself worthy of her greatness.
On Monday night, Simon Konecki publicized his love for the songstress by writing love notes on little pink pieces of confetti that showered the audience at her Nashville concert.
Monday was the couples' five-year anniversary, and people are swooning over Konecki's creative gift to his lover.
Adele's boyfriend celebrated their fifth year anniversary by replacing Adele's regular white confetti to love notes he wrote pic.twitter.com/7gtaKcjvwp — FREDDY (@FreddyAmazin) October 18, 2016
Adele's boo thang wrote sweet notes on the confetti that said things like "Happy Anniversary," "I love you" and "Love you long time."
ADELE, NEVER LET HIM GO.
"You are an angel."
Now I'm crying. *cue Adele song*
As original as Konecki's idea may have seemed, there's no doubt he was inspired by Adele's genius.
Recently, the creative singer has been allegedly writing down her own lyrics onto pieces of white confetti that are launched into the audiences during her shows.
Needless to say, they're better than any take-home concert merch by far.
I want a piece!
Adele, you never cease to amaze us.
We're thrilled to know you and your boo thang are doing well and hope to hear a happy song or two on your next album -- because what happened on Monday night is straight out of a freakin' fairytale.
I mean, it's safe to say any lover who will take the time to write notes onto tiny pieces of paper that will be launched mid-concert is definitely a keeper.
But, we all know he'll never love her as much as her fans do. So keep the music coming, you beautiful mama, you.