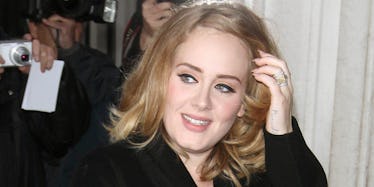 Adele Gets Candid About Postpartum Depression: 'I Felt Very Inadequate'
REX/Shutterstock
Adele has suffered through a lot of sadness in her life.
However, we rarely hear about the sadness she felt after having her child.
The 28-year-old singer opened up about her experience with postpartum depression in a recent interview with Vanity Fair.
In October 2012, Adele gave birth to her son, Angelo Adkins, with her long-term boyfriend, Simon Konecki.
When asked by Lisa Robinson of Vanity Fair if she would consider having more children, Adele said she doesn't see it happening.
Why? She doesn't want to go through that depression and pain she felt after giving birth a second time around.
She said,
I'm too scared. I had really bad postpartum depression after I had my son, and it frightened me. [...] My knowledge of postpartum — or post-natal, as we call it in England — is that you don't want to be with your child; you're worried you might hurt your child; you're worried you weren't doing a good job. But I was obsessed with my child. I felt very inadequate; I felt like I'd made the worst decision of my life ... It can come in many different forms.
At the time, Adele says she didn't really talk to anyone about her pain. Her boyfriend suggested she talk to other women who had been through the same thing, but she was resistant to the idea at first.
Specifically, she said,
Fuck that, I ain't hanging around with a fuckin' bunch of mothers.
(Have I mentioned that Adele is my favorite ever? Because she is.)
But, she explains, she soon found herself opening up and sharing her experience with fellow mothers, and it helped.
She said,
I knew I could just sit there and chat absolute mush with my friends who had children, and we wouldn't judge each other. One day I said to a friend, 'I fuckin' hate this,' and she just burst into tears and said, 'I fuckin' hate this, too.' And it was done. It lifted.
Now, to keep herself sane, Adele says she takes one afternoon for herself, without her son, once a week.
And while people do try to make her feel guilty about it, she knows how important it is to give herself that time.
She explained,
Eventually I just said, I'm going to give myself an afternoon a week, just to do whatever the fuck I want without my baby. A friend of mine said, 'Really? Don't you feel bad?' I said, I do, but not as bad as I'd feel if I didn't do it. Four of my friends felt the same way I did, and everyone was too embarrassed to talk about it; they thought everyone would think they were a bad mom, and it's not the case. It makes you a better mom if you give yourself a better time.
Preach, Adele. You tell those grossly unrealistic expectations of motherhood where to stick it.
Citations: Cover Story: Adele, Queen of Hearts (Vanity Fair)