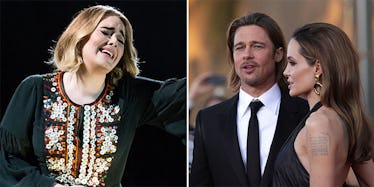 Adele Dedicated Her 'Breakup Therapy' Concert In NYC To Brangelina
REX/Shutterstock
I can only imagine that Brad Pitt is screaming "Someone Like You" at the top of his lungs right about now.
Oh, who am I kidding? I'm listening to Adele right now myself and putting the volume on max (sorry roommate and people in a half-mile radius).
Why? Because Brangelina is no more and I'm sittin' here thinking about whether or not LOVE IS EVEN REAL.
Brad's upset, I'm upset, George Clooney's upset... Give us a little peace, people. We're all having a really tough time with this.
Well, thankfully Adele is also a walking, singing master class on how to keep yourself composed and strong during a breakup -- even if it's Brad Pitt and Angelina Jolie's breakup.
In fact, Adele told a sold-out crowd at her Madison Square Garden concert on Tuesday that her concert would be "two hours of misery," and that she would lead her fans in "in a group Brangelina breakup therapy session."
Apparently, after a few songs in, she dedicated her entire concert to Brangelina.
This isn't just the elephant in the room at MSG. It's the elephant in the room IN EVERY ROOM THAT PEOPLE ARE CURRENTLY IN.
She also called their breakup "the end of an era."
If you were wondering, that "era" is officially called "THE TIME I THOUGHT THAT THERE WAS AT LEAST ONE HOLLYWOOD COUPLE WHO COULD GO THE DISTANCE."
In case you guys care, I'll be dedicating this entire article to Brangelina. I hope you find happiness, Mr. and Mrs. Smith. (Guess I'll have to change my nickname for you guys, huh?)
On behalf of Brangelina, thank you, Adele.
I guess all we can do now is hope that one day Brad and Angelina can say hello from the other side of this awful breakup as friends.
Now, if you'll excuse me, I need to listen to "Rolling in the Deep" while rolling around on my floor clutching a life-size cardboard standee of Brad and Angelina.
Citations: Adele dedicates NYC concert to Brad Pitt and Angelina Jolie (Entertainment Weekly)