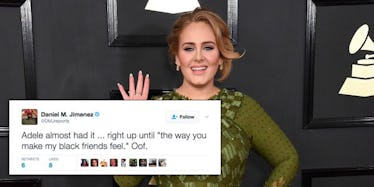 Adele Causes Twitter Drama With 'Black Friends' Comment In Grammys Speech
REX/Shutterstock/Twitter
Despite racking up five awards at the 2017 Grammys and praising Beyoncé after she beat her for Album of the Year, Adele is catching major heat for something she said during her final acceptance speech.
After she won Album of the Year for 25, Adele took to the stage at the Staples Center and gave her award to Beyoncé.
Addressing the crowd, and Queen Bey, Adele said,
I can't possibly accept this award, and I'm very humbled and I'm very grateful and gracious, but my artist of my life is Beyoncé and this album for me, the Lemonade album, is just so monumental. Beyoncé, so monumental, and so well-thought out and so beautiful and soul-bearing and we all got to see another side to you that you don't always let us see and we appreciate that and all us artists here adore you. You are our light and the way you make me and my friends feel, the way you make my black friends feel is empowering, and you make them stand up for themselves and I love you, I always have and I always will.
While listening to Adele's moving acceptance speech and crying your eyes out, you may have missed the line where she talked about her "black friends."
Twitter, however, did not, and Adele is catching some major heat for her "black friends" comment.
Thankfully, though, there appear to be plenty of folks on Twitter who are defending Adele for her use of the term "black friends."
I really can't understand why folks have a problem with Adele.
Adele mouthed "I love you" to Beyoncé during the same acceptance speech.
I mean, Adele literally broke the Grammy so she could share it with Beyoncé!
What more do you want from this woman?
Haters gonna hate, though, right?
Citations: Adele's 'black friends' Grammy comment stirs debate (CNN)