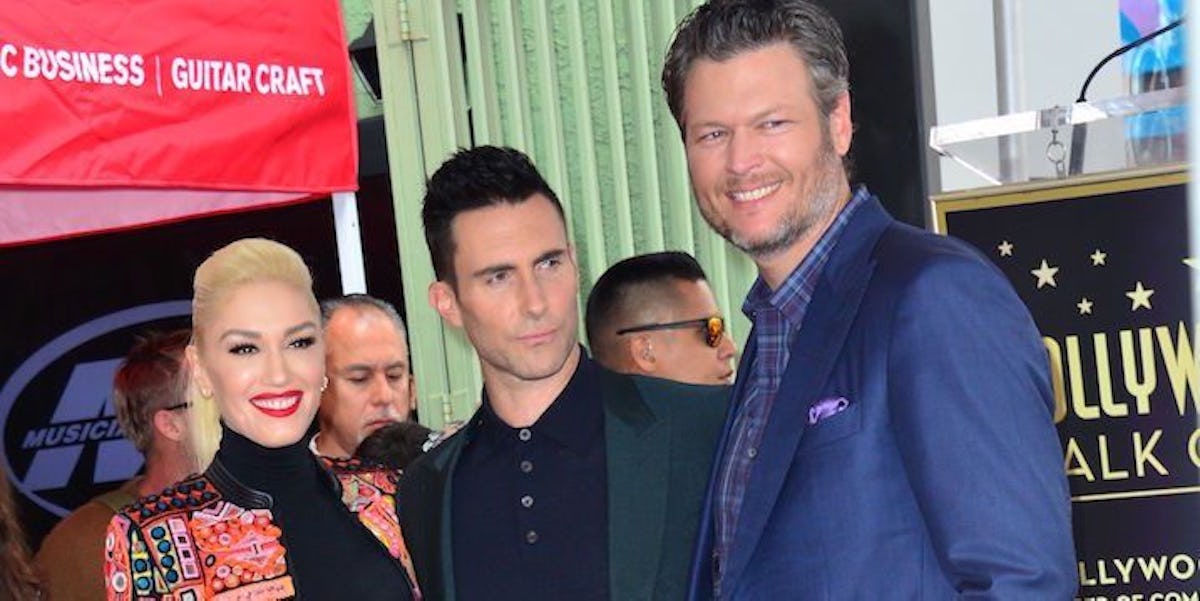 Adam Levine Thinks It's Weird Blake Shelton And Gwen Stefani Have Sex
REX/Shutterstock
Have you ever had that experience where two of your close friends start hooking up with each other, and it messes with the whole dynamic of your friend group?
Like, they try to hang out with everyone and act like nothing's changed, but they keep whispering to each other and giggling, and you know they're just waiting to go home and bang.
That's what Adam Levine is experiencing on "The Voice."
The Maroon 5 frontman opened up on the "Howard Stern Show" about how the reality competition show feels different now that Blake Shelton and Gwen Stefani are dating.
Particularly, he talked about how weird it is to be sitting next to them and know they're having sex after the show, saying,
It's super crazy, you think to yourself — you're sitting in these chairs, and you're like, 'They're having sex with each other.' It's weird. It's like a dynamic shift, because you're just like, 'This is wild.'
Levine also admitted he was totally blindsided by their relationship, which Gwen and Blake began about a year and a half ago at the end of 2015.
He admitted even though he had been sitting next to both of them as co-hosts of "The Voice" in the years leading up to their relationship, he was just as shocked to learn about it as the rest of us.
Levine revealed,
If you had told me Gwen Stefani was going to be with Blake Shelton, I would have told you you were out of your fucking mind... But it's so wrong, that it's right.
Stern also asked Levine the question on everybody's mind when it comes to Gwen and Blake: Ummmm, but those dual divorces were pretty wild, right?
It's hard to skirt around the fact that just a couple months before Gwen and Blake announced they were dating, both singers were married to different people.
Blake filed for divorce from Miranda Lambert four months before he and Gwen became official, and Gwen filed for her divorce from Gavin Rossdale three months before confirming her relationship with Blake.
Adam Levine doesn't see those sudden divorces as anything alarming, though. He emphasized people can't control matters of the heart, and said he's happy for them.
Listen to the full interview below.
Citations: Adam Levine & The Voice - The Howard Stern Show (The Howard Stern Show)