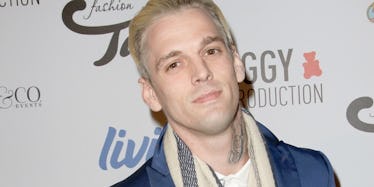 Aaron Carter Attacked While Performing After Allegedly Making A Racial Slur
Shutterstock
Aaron Carter was attacked on stage Friday night during a performance after reportedly making a racial slur toward a musician in the band that opened for him.
The singer was so battered and bloodied, he ended his set early and was taken to the hospital, TMZ reports.
Carter took the stage at a venue in Illinois called Loony Bin after his openers, ILL State, finished its set on Friday night.
It's been reported one of the band members in ILL State was goofing off while Carter was trying to perform, and he wasn't happy about it.
According to TMZ, the unnamed musician was taking peoples' cell phones in the audience and videotaping during his set, so Carter had security remove him from the venue.
An eyewitness from the concert said the musician he had removed was Hispanic, and when security escorted him from the crowd, Carter apparently made a racial comment.
He said, "Bye Felipe" -- which is a male take on "Bye Felicia" -- and the musician went haywire. (The debacle starts about 10 seconds into the video.)
After being taken outside the bar, the enraged musician walked back into the venue and barreled through the crowd toward Aaron.
It's safe to say this definitely wasn't the "Aaron's Party" fans gathered for.
During the attack, the musician damaged Carter's speaker and computer. The singer was bloodied and was taken to the emergency room shortly after the brawl.
Cops are still investigating the event, but it's safe to say ILL State won't be opening up for Aaron Carter anymore.
Hopefully, Carter will be back on his feet soon since he probably has a busy schedule after the release of his new album Love. I don't know about you, but I'm excited to channel my inner child and jam to some new Aaron music.
Fun fact: The first concert I ever went to was Aaron Carter and A*Teens when I was 12, but a brawl definitely did not break out in the middle of it.
I guess there's a first time for everything, though.