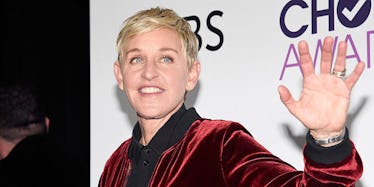 7 Queer Celebrities Doing Great Things For The LGBTQ+ Community
by Anjali Sareen Nowakowski
Kevork Djansezian/Getty Images
Celebrities can be known for many things, whether their iconic roles, wonderful films, or even the occasional scandal.
Others use their fame more proactively, becoming household names known for their advocacy work and commitment to equality, along with their artistic talent.
With June acting as Pride Month, many are out celebrating, volunteering, and figuring out all possible angles to help those we know in the LGBTQ+ community.
Luckily, we have plenty of queer famous people on our side to lend a hand.
This Pride, we're taking the time to recognize seven specific people constantly making strides for the LGBTQ+ community.
1. Ellen DeGeneres
No list of queer celebrities advancing the cause of LGBTQ+ rights would be complete without this daytime host with the most.
When Ellen came out in 1997, the scene was completely different for those that identified under the LGBTQ+ umbrella. Because of the stigma that was associated with being gay at the time, Ellen took a huge risk in her career by opening up about who she really is.
Thanks to her public outreach, she changed the game for the LGBTQ+ community in terms of their work in and out of the Hollywood limelight.
Ellen has continued to be an outspoken advocate for the LBGTQ+ community alongside wife, Porta de Rossi, with her advocacy efforts including (but not limited to): speaking out against anti-LGBT legislation and challenging a presidential candidate on his anti-LBGT stance.
Actress Jane Lynch has even called Ellen a "pioneer" for the LGBT community, and it's clear she's not wrong about that.
2. Miley Cyrus
Miley Cyrus has described herself as pansexual over the past several years, slowly emerging as a young leader in advancing LGBTQ+ rights.
Cyrus recently launched her Happy Hippie Foundation, a nonprofit group dedicated to helping homeless and LGBT youth. She's also kicked off #InstaPride, an initiative with Instagram that encourages people to be outspoken in sharing their stories as members of the transgender community.
If that wasn't enough, Miley went and got an equal sign tattooed on her ring finger, representing her support of gay marriage and marriage equality as a whole.
"I believe every American should be allowed the same rights and civil liberties," Miley wrote in an essay for Glamour Magazine. "Without legalized same-sex marriage, most of the time you cannot share the same health benefits, you are not considered next of kin and you are not granted the same securities as a heterosexual couple. How is this different than having someone sit in the back of the bus because of their skin color?"
At only 24-years old, it's clear we need more supporters like Miley.
3. Ellen Page
Actress Ellen Page, known for her roles in Juno and X-Men, came out publicly during a speech at the Human Rights Campaign Time to Thrive conference in 2014.
In that speech, the actress said she felt a "personal obligation and social responsibility" to come out and advocate.
Over the past several years, Ellen has continued her advocacy efforts, including working on projects that center on LGBTQ+ characters. She has also acted as the host of Gaycation, a series that challenges views on LGBTQ+ communities throughout the world.
Page is an important, visible LGBTQ+ celebrity, and her advocacy efforts have continued to make an impact over the last few years.
4. Laverne Cox
Laverne Cox got her claim to fame for her role as Sophia Burset on Netflix's hit series, Orange is the New Black.
Since then, Laverne, who is considered the first transgender woman of color to have such an impactful role on mainstream television, has been a committed advocate for LGBTQ+ rights.
She produced a documentary called Free CeCe, telling the story of a transwoman sentenced to almost three and a half years in jail for defending herself against an attack.
Laverne also advocated for better data collection of LBGTQ+ individuals with Congress. Better data collection, according to Laverne, means a lower chance of discriminatory bills like the anti-transgender bathroom laws passing.
According to the actress, with more actual data about trans people, there will be less misinformation and hopefully, less hate.
5. George Takei
Although previous generations may know George from his infamous Star Trek role, many millennials now recognize him as the famous LGBTQ+ advocate across social media.
The 80-year old spends a lot of time on Facebook and Twitter posting about LGBTQ+ issues, spreading relatable memes and images in the hope that they'll make a great impact on the public.
He regularly shares his opinions on ways the LGBTQ+ community can lead change.
In fact, he even led a tour focused on the process of coming out, naming it "Equality Trek." On the tour, he spoke about being a gay Japanese-American and what life was like for him growing up. He was later honored with the Upstander Award from the Human Rights Campaign for his commitment to LBGTQ+ activism.
George has embraced his identity as a gay man, saying it's a "natural part of who [I] am." He continues encouraging others to do the same.
6. Lady Gaga
Lady Gaga regularly advocates for LGBTQ+ rights through multiple outlets, including her work as a musician.
Identifying as bisexual, the singer-songwriter made a chart-topping statement with her 2011 hit, "Born This Way," a powerful track about loving who you are, no matter what the opinions of others may be.
Her nonprofit group, the Born This Way Foundation, has focused on the fight against bullying, directed at the nation's youth with a strong lean towards LGBTQ+ youngsters.
Gaga herself has always taken multiple opportunities to speak out in favor of equality: in interviews, while accepting awards, and even through video messages encouraging others to get out and vote for equal rights.
She's even made big statements by walking away from a lucrative sales deal because of a company's refusal to support LGBTQ+ charities.
Gaga has continued to act as a huge proponent of LGBTQ+ rights, always encouraging fans and followers to be exactly who they were born to be.
She's way more than just your average pop sensation.
7. Neil Patrick Harris
Neil Patrick Harris is a big supporter of multiple LGBTQ+ organizations, including The Trevor Project and Live Out Loud.
He's been extremely vocal about his place as a gay actor on television, and strives for more LGBTQ+ inclusiveness in Hollywood.
Neil also penned a memoir, Choose Your Own Autobiography, focusing on his life and how he learned to accept who he was.
"After a long internal journey, you now embrace being gay, recognizing it as a wonderful and integrally important component part of the totality that is you," he said.
Though Neil used to be much quieter about LGBTQ+ issues, he's spoken out against anti-gay bullying and contributed to a video for the "It Gets Better" Project.
Though Pride is a time to celebrate the LGBTQ+ community and discuss the issues they face, Neil and these other celebrities are advocating for equality year-round.
We should applaud them for that.