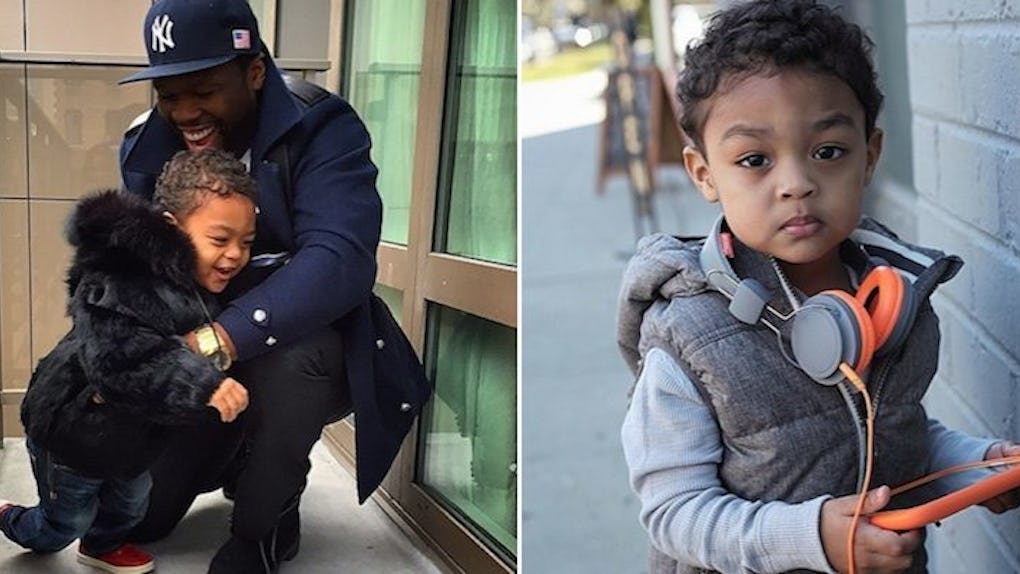 Instagram
50 Cent's Cute 2-Year-Old Son Just Got A $700,000 Modeling Contract (Photos)
If you thought North West and Blue Ivy were the hottest toddlers on the child celebrity scene, think again.
There's a new tot on the block seriously heating up the style game.
Meet Sire Jackson.
You may recognize this cute little kid as the son of 50 Cent and the rapper's ex-girlfriend, Daphne Joy.
Everyone knows Fiddy is no stranger when it comes to success, so it's no surprise Sire knows a thing or two about gettin' money. And he's starting his own path to success at a young age.
In a recent radio interview with Angie Martinez, the rapper proudly announced his 2-year-old son landed a huge modeling contract with audio company Kidz Safe.
According to 50 Cent,
He'll get $700,000 to be the face of the company. Already, he's making his own money.
This kid is barely out of diapers, and he's already raking in over half a million dollars. But hey, you have to put a hefty price tag on a face so innocent and adorable.
It's no secret Sire's old man is pretty proud of his new modeling gig, and during the interview, he revealed,
I have so much fun with him, man; even my spirit change. I light up when I talk about him. He's at that point where he repeats everything.
Now, you may want to take a moment to reevaluate your life since a toddler just put your weekly paychecks to shame by capitalizing on his good looks and cashing in on his cuteness.
If only we all had pretty faces and famous hip-hop fathers.
Take a look at the photos below to see 50 Cent's adorable son.
Remember this cute little kid?
This is 50 Cent's adorable 2-year-old son, Sire Jackson.
Just like his pops, he's all about the paper.
And he just landed a $700,000 modeling contract with Kidz Safe.
Yep, this baby just made some serious bank.
And he's making his superstar dad insanely proud.
This kid has some ridiculously strong style game to go along with his good looks.
And he's sure to give all those other baby models a serious run for their money.
Citations: 50 Centu2019s Son Lands $700K Modeling Contract (Hip Hop Wired)