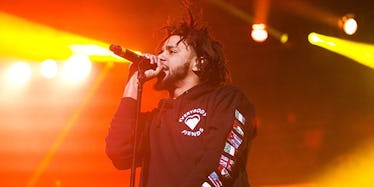 5 Successful Creatives Who Achieved Their Dreams Through A Side Hustle
REX/Shutterstock
Millennials aren't exactly strangers to working an extra job.
In a survey of 3,200 full-time employees, Career Builder found that 39 percent of workers between the ages of 18 and 24 worked second jobs. Meanwhile, 44 percent of respondents between the ages of 25 and 34 had a second job as well.
But there's a big different taking on an extra gig for money, and taking on another job to finance your dreams -- that's the definition of a side hustle.
And a number of very successful people with very enviable jobs have used the art of the side hustle to help them achieve their very unique goals.
Here are five of them.
Daymond John
Today, Daymond John is a star of ABC's hit TV show "Shark Tank." But back in the '90s, John was a hustling entrepreneur, working hard to build his clothing brand FUBU out of his house.
But before John could commit to FUBU full-time, he worked at Red Lobster for four years.
In a conversation with "Fortune" magazine, John said,
I said to myself, 'I'm going to put in three hours on this business a week. If I can last, I'm going to put in eight hours a week.
John also told "Fortune" that his schedule would come to resemble something like this: Wake up around 6, fulfill orders, head to Red Lobster, work 'til around 10, get home and stitch clothes 'til three.
Today John is worth hundreds of millions.
Bill Simmons
Bill Simmons is probably the greatest sports writer of the internet age.
The former ESPN columnist was so influential at the network, during his tenure there he authored a book, was featured on multiple TV shows, hosted a podcast, produced documentaries and served as editor-in-chief of sister site, Grantland.
The path to all that success at ESPN began when he quit his job at the Boston Herald.
Eventually he took up bartending at night and created his own website, BostonSportsGuy.com, where he began writing his famed styles of writing, which mixed sports and pop culture.
The main thing I noticed was none of them were writing about the stuff I talked about with my friends. The stuff we were doing -- going to Vegas, watching football for 10 hours, playing video games -- and the stuff we noticed, like the ugliest player in the NBA, wasn't represented.
After leaving ESPN in 2015, Simmons launched his own website, The Ringer, a podcast network and partnered with HBO to launch a TV show.
Issa Rae
By all accounts, the first season of the Larry Wilmore and Issa Rae's "Insecure" was an all-around success. HBO has already renewed the show for a second season and Issa, who plays the lead character, was nominated for a Golden Globe.
So it's a good thing she didn't give up her Hollywood dreams when it looked like she was at a dead end.
Issa told Huffington Post,
At 25 I was really really struggling. Super, super broke and trying to hold onto a job. I was going to go back to school because my dad was really pressuring me. So I took the GMAT and the LSATs, just trying to figure out whether I wanted to go to law school or business school.
Issa pressed on and eventually created her most notable web series, the "The Misadventures of Awkward Black Girl." That helped her catch the eye of Pharrell, with whom she would soon collaborate.
Before that, though, she told Huff Po she had been working (what sounds like) too many side hustles to name.
She said,
I was just working from job to job, trying to find money where I could. And freelancing a lot.
Gotta do what you gotta do.
J. Cole
What's the rapper's life about: money, cars, clothes and ho... bbies, right? Not exactly.
When J. Cole was coming up in the game, he was also student at St. John's University in Queens, NY, where he graduated Magna Cum Laude, according to ABC.
Despite being a good student, Cole had still be chasing his music dream, and worked as a bill collector to keep money in his pocket. But even after he landed a deal with Jay Z's Roc Nation, he didn't drop his side hustle.
Cole told the Wall Street Journal,
I didn't quit right away because I was still broke. Even after you sign the deal, it takes a while for them to cut the check.
Talk about maturity.
Ken Jeong
You could argue that Jeong is supposed to be exceeding in another field right now. The 47-year-old "Hangover" star had graduated high school early, gotten a great education through Duke and North Carolina University, and even became a licensed physician.
But throughout all his years working to become a doctor, Jeong never gave up the dream of acting and comedy. In fact, he worked at it on the side.
In a guest column for The Hollywood Reporter, Jeong wrote,
I started doing stand-up every three months, even during my internal-medicine residency at Ochsner Medical Foundation in New Orleans. I worked 90-hour weeks, but no matter how stressed out I was at school, I'd go to Charlie Goodnights in Raleigh and do a five-minute opening slot for comedians like Brian Regan or Marc Maron.
Even when he moved to LA and began enjoying the life of a well-paid physician, he continued doing stand-up. Eventually, he successfully auditioned for a role in "Knocked Up."
After that, his wife convinced him to pursue acting full-time and the rest is history.