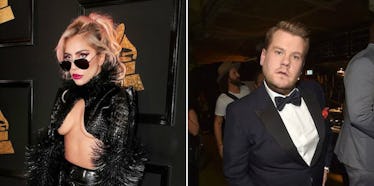 Lady Gaga And James Corden Dominated The 2017 Webby Awards
Getty Images
It's that time again, kiddos. The 2017 Webby Awards are here to celebrate and acknowledge all of the best, most fascinating, interesting, thought-provoking and downright entertaining things the internet has to offer us.
Tuesday morning, the official list of winners was announced and boy-oh-boy did Lady Gaga and James Corden clean up.
This year, there were just over 13,000 entries (which, like, FEELS like a lot but if we're talking about everything on the internet ever, that's pretty good) and hundreds of categories broken down into six fields.
The fields are Websites, Social, Film & Video, Mobile Sites & Apps, Podcasts & Digital Audio and Advertising/Media & PR. They also handed out People's Voice Awards based on fan votes.
Lady Gaga brought home three awards for her Lady Gaga + Intel performance at the Grammys and Corden scored the People's Voice Award for Entertainment (Social).
And ya know what, THEY WOULD, YOU ASSHOLES. They are literally two of my favorite people of all time and they deserve it.
I mean, look.
Other notable achievements of the night included singer Solange taking home Artist of the Year, Planned Parenthood winning Best Charitable Organization/Non-profit Website and website Giphy taking home three awards in Messaging, Branded and NetArt.
Other winners include:
Planned Parenthood Best Charitable Organization/Non-profit Website
Sandy Hook Promise – Evan Best Viral Marketing (Advertising, Media & PR) and Best Short Form Branded Content (Film & Video)
CNN Election Night 2016 Best Event (Social)
The New Yorker Best Magazine Website and Best Writing (Editorial)
Van Jones' The Messy Truth Best News & Politics Series (Film & Video)
Squarespace Best Web Service & Application (Websites)
FactCheck.org Best Political Blog/Websites (Websites)
Teen Vogue Social Video for "Ask a Muslim Girl" Film & Video for "Body Party Starring Barbie Ferreira"
Merriam-Webster Redefines Twitter Best Writing (Social) Best Education & Discovery (Social)
Game Changer featuring Stephen Curry Best Use of Online Media (Advertising, Media & PR)
The Infatuation Best Food & Drink App (Mobile Sites & Apps)
NYT Cooking Best Food & Drink Website (Websites)
Airbnb Best Travel App (Mobile Sites & Apps)
The Metropolitan Museum of Art Social Video for The Met 360 Project (Social)
For a complete list of the 2017 Webby Award Winners, check out webbyawards.com.