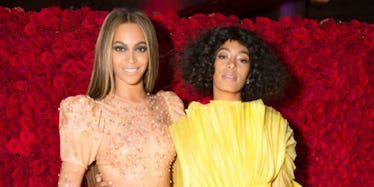 Beyoncé Interviewing Solange Will Make You Happy Cry: 'I'm Your Biggest Fan'
REX/Shutterstock
If you aren't stocked up on Kleenex, I'd make a pit stop at CostCo STAT.
In a sit-down for Interview Magazine, Solange was interviewed by none other than her sister (and future best Coachella headliner of all time) Beyoncé.
Before even getting into the nitty-gritty of the interview, Queen Bey makes every reader's heart melt right off the bat by talking about how proud she is of Solange, saying,
Well, it is a bit strange, because we're sisters and we talk all the time, to be interviewing you. But I'm so happy to interview you because, clearly, I'm your biggest fan and I'm super proud of you.
Half of the world is fighting for the right to be Bey's biggest fan, but Yoncé is clearly the biggest devotee of Solange.
At one point in the interview, Solange went on to talk about the process of growing up and switching different artistic mediums to express herself when she was a kid.
She said,
I remember having so much perspective about my voice, and how to use my voice, at such a young age — whether it was through dance, poetry, or coming up with different projects. I guess I always felt a yearning to communicate — I had a lot of things to say. And I appreciated y'all's patience in the house during all of these different phases. They were not ever very introverted, quiet phases.
To which, Bey replied,
No, not at all. [both laugh] I remember thinking, 'My little sister is going to be something super special,' because you always seemed to know what you wanted. And I'm just curious, where did that come from?
If my sister said to me while growing up, "My little brother is going to be something super special," I would instantly start crying the happiest of tears.
Of course, I would then be extremely confused because she's technically younger than me.
Solange continued talking about her most recent record A Seat At The Table,
For this record specifically, it really started with wanting to unravel some truths and some untruths. There were things that had been weighing heavy on me for quite some time. And I went into this hole, trying to work through some of these things so that I could be a better me and be a better mom to Julez and be a better wife and a better friend and a better sister... And having mom and dad speak on the album, it felt right that, as a family, this closed the chapter of our stories.
And then, Beyoncé turned my eyeballs into beautiful waterfalls with her response, saying,
Well, it brought tears to my eyes to hear both of our parents speak openly about some of their experiences...
If Bey is crying, I'm basically Moaning Myrtle, weeping for all eternity and doing a lot of ugly crying like this guy right here.
Bey finished out the interview with the hardest hitting question of all time:
And, honestly, growing up, how did I do as a big sister?
Gulp. Here comes the moment of truth. Gah, I need to stress-eat.
Much better!
Solange responded,
You did a kickass job. You were the most patient, loving, wonderful sister ever. In the 30 years that we've been together, I think we've only really, like, butted heads... we can count on one hand.
Hmm, I wonder if the incident on the elevator counts toward those tiffs.
Citations: SOLANGE (Interview Magazine)