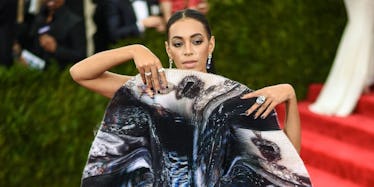 The 2017 Met Gala Theme Proves It Will Be The Most Wild One Yet
Getty Images
The biggest night in fashion is almost here, and we're all on the edge of our seats waiting to see which crazy, mind-blowing looks celebrities will be rocking on the 2017 Met Gala red carpet.
Oh, and you know there's going to memes all over the Internet after we see all the looks on Monday night. After all, this is the event that brought us Rihanna's gigantic yellow gown and Sarah Jessica Parker's insane fire headpiece.
And this year sounds like it's going to have the wildest looks yet, because the theme for the 2017 Met Gala is all about strange, avant garde fashion. This year's theme will be Comme des Garçons, the buzzy high-fashion label founded by Tokyo designer Rei Kawakubo.
The big thing to know here is that Comme des Garçons is behind some of the most bizarre, radical, avante garde pieces of fashion in our modern era, so you can expect your favorite celebs to show up in some absolutely mind-blowing outfits that you might have never expected to see them in!
Don't believe me? Just take a look back at the most recent Comme des Garçons fashion show during Paris Fashion Week to get a taste of some of the label's wild, inventive looks. Like, imagine if Beyoncé showed up in this puffy, red thing!
Or what about Kim Kardashian strolling down the red carpet in this otherworldly, white, curvy dress (is it a dress?), that looks like it's straight out of some weird sci-fi movie.
So yeah, I think it's pretty safe to assume that we're going to get some really out-there looks on Monday night.
The Comme des Garçons label has been embraced by tons of celebrities in the past, from Kanye West to Justin Timberlake, but true to its avante garde nature, none have more fully embraced the otherworldly designs than Lady Gaga.
Mother Monster has worn some of the label's most ambitious looks to a number of events, including a large, two-toned Comme des Garçons dress that caught a lot of media attention back in 2012.
It'll definitely be interesting to see how Lady Gaga celebrates the beloved fashion line on Monday, along with all of the other superstars!