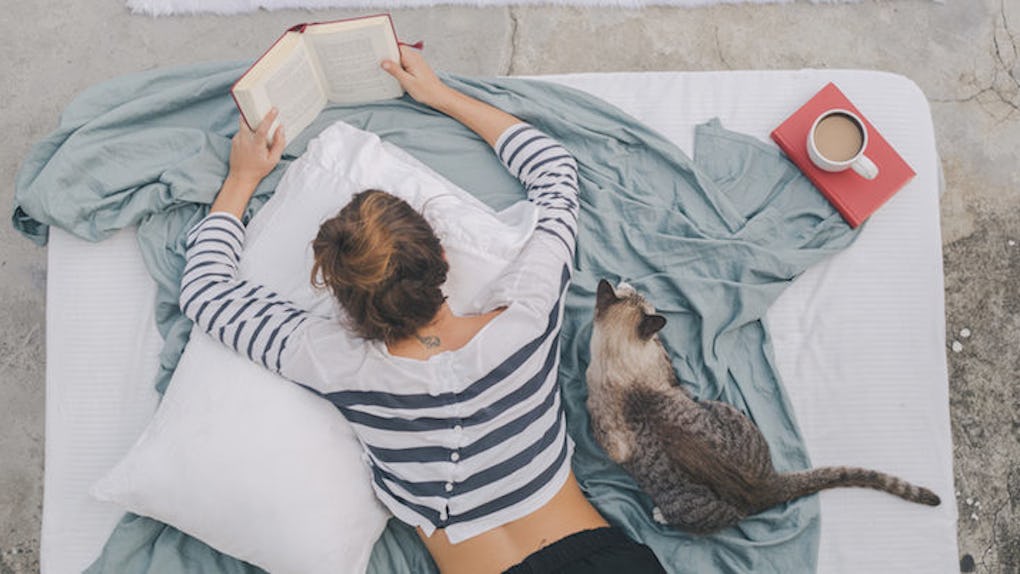 Jovo Jovanovic
16 Celebrity Memoirs That Are Perfect To Read Over Winter Break
Collecting celebrity memoirs has always been a hobby of mine.
Half of my book collection consists of these memoirs, and I've only gotten around to reading a handful of them.
It happens.
Winter break is my reading jam, for real.
It's cold, snowing and people are the worst.
So, why not escape in a book?
Why not be ultra-hip and meta this year by being antisocial and reading about socialites?
The great thing about these awesome autobiographies is that most of the authors dabble in other areas of entertainment.
I'm talking film, television, music, YouTube, you name it.
So, you can read their books and then watch their shows or movies to really feel like you get them.
Plus, what else are you gonna do?
Without further ado, here is the magnificent list of what you should buy me for Christmas.
(I'm talking to you, Grandma.)
1. "Modern Romance"—Aziz Ansari
Not only is this book filled with information about love, dating and sex in the modern age (he consulted with a sociologist and did dozens of focus groups to prep), but it's ridiculously funny.
You'll learn about dating trends, what casual dating is like in Tokyo and what kind of pasta Aziz likes.
When you're done reading that, check out his latest critically acclaimed masterpiece, "Master of None."
The entire first season is up on Netflix, and you'll finish it one sitting. Trust me.
It'll make you feel like you're best buds with Aziz, and it'll also make you hungry for pasta.
2. "Cravings"—Chrissy Teigen
It's an awesome cookbook coming out soon.
Also, do yourself a favor and follow her on Instagram.
3. "You Deserve a Drink: Boozy Misadventures and Tales of Debauchery"—Mamrie Hart
If you haven't heard of Mamrie Hart, well, you should know who she is.
She's one of YouTube's darling mega stars, specializing in making drinks inspired by pop culture.
Her memoir includes hilarious stories about her start in the industry, and it also has awesome drink recipes that are sure to make your Christmas extra special this year.
She also starred in, wrote and produced a film called "Camp Takota."
Of course it's on Netflix, folks.
It's super funny and endearing, and if you don't like it, then just go make yourself a drink because you deserve it.
4. "My Drunk Kitchen: A Guide To Eating, Drinking, and Going With Your Gut"—Hannah Hart
This is another amazing cookbook and memoir.
So, now you have food to go with your drinks.
5. "Wildflower"—Drew Barrymore
She just released this book not too long ago, and it's super interesting.
As many of you know, she's had a rocky past and a rugged upbringing in the spotlight.
She's also one of the few celebrities who have been able to bounce back from it and become incredibly successful.
She also has her own makeup line called Flower Beauty (which has become one of my favorite makeups brands), and you might as well check out some of her past flicks that'll be sure to put you in the Christmas spirit.
Remember the little girl from "E.T." anyone?
6. "Stories I Only Tell My Friends"—Rob Lowe
Learn about his struggles, addictions, past and how he overcame them just like Drew.
7. "Selp-Helf"—Miranda Sings
This is yet again another awesome YouTube star you should know about.
Colleen Ballinger created this whacky character who talks about her uncle and Daddy Saddles.
It sounds super weird, but you're guaranteed to laugh.
Her book has pictures, pages you can cut out, weird lists and plenty of information on how to look good.
I read this to my 4-year-old niece whenever I visit her, and she loves it.
So check out her YouTube channel, practice your Miranda voice, dazzle all the kitties at Christmas and become the family favorite.
8. "Grace's Guide: The Art of Pretending to be a Grown-up"—Grace Helbig
It's another how-to guide on how to accomplish the thing we all suck at.
9. "Yes Please"—Amy Poehler
This wouldn't be a complete list without the fabulous Amy Poehler.
Her book "Yes Please" is just as hilarious as you would think.
But what you don't know is she has some amazing insights and advice about womanhood, marriage, self-confidence and success that will be sure to inspire you.
You'll learn about the ins and outs of UCB, her divorce from her ex-husband Will Arnett and how much she loves her children.
10. "Bossypants"—Tina Fey
You didn't think I was going to forget about Tina, did you?
Amy and Tina are both here because you really can't have one without the other.
Tina's book includes plenty of background about her upbringing, Greek culture and what it takes to be a real "bossypants."
After you're done reading these books, go check out their new film, "Sisters."
11. "Why Not Me?"—Mindy Kaling
Mindy Kaling is another amazing female who speaks her mind and embraces who she is.
Also, check out her debut book, "Why Is Everyone Hanging Out Without Me? (And Other Concerns)."
12. "Seriously...I'm Kidding"—Ellen Degeneres
Okay, she's written a lot of books, but this is her most recent one.
It is just as hilarious and heartwarming as the rest.
13. "Hunger Makes Me a Modern Girl"—Carrie Brownstein
You probably know Carrie from the amazingly quirky show, "Portlandia," which also stars SNL favorite, Fred Armison.
But what you might not have known is she's in an awesome riot grrrl group called Sleater-Kinney.
She sings, plays lead guitar and rocks out with all her might.
She was one of the only two women ranked on Rolling Stone's list of the Top 100 guitarists of all time.
(I just saw them live, and they are amazing).
So check out her band, and watch "Portlandia" another 100 times.
And if you get bored of those, you can also see her as Syd on Amazon's critically acclaimed series, "Transparent."
(The second season just premiered, and it's already awesome).
14. "Not That Kind of Girl"—Lena Dunham
She puts the fem in feminist and also the hilar into hilarious.
She's spunky, funny and isn't afraid to wear plaid. You go, girl.
15. "Dear Mr. You"—Mary Louise Parker
If you're an ultra celebrity lover like me, you definitely need to check out Mary Louise's new memoir.
In it, she talks about her relationship with fellow actor Billy Crudup (who infamously left her for Claire Danes while she was pregnant with their child) and about her adoption of her beautiful daughter.
You'll find out about the woman behind "Weeds" and what it's like to go through similar struggles we all might have faced.
While you're at it, you might as well watch "Weeds" again because how amazing is that show?
16. "Dad Is Fat"—Jim Gaffigan
This includes more hilarious tales about parenting and what it's like to go bald.
Don't just take my word for these awesome celeb memoirs.
Get your booty to that bookstore and start reading!