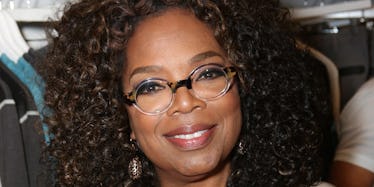 11 Celebrities Who Prove Using A Life Coach Will Help Reboot Your Career
Getty images
It's simply a celebrity's profession that separates themselves from us "regular" folk. Believe it or not, they still experience the same challenges and emotions you and I go through on a daily basis.
They too can feel fear and can get overwhelmed. It's also no secret that celebrities can have issues with money, health and relationships.
The use of a life coach has helped many celebrities work through roadblocks they encounter to take their lives to the next level. Other than their notoriety, celebrities are no different from anyone else. Just because they can be easily recognized on the streets doesn't mean they're not fighting an internal battle.
"What is a life coach?" you ask. A life coach is someone who helps you reach your goals and make changes in your life. And these celebrities know how to use them.
Read on to be pleasantly surprised by which of your favorite famous friends have sought the assistance of a life coach.
1. Oprah Winfrey
Oprah has attributed some of her success to her life coach, Martha Beck. She has been a major advocate for life coaching as a result. Over the last 25 years, she's presented a multitude of life coaches to her fans and highly suggests her viewers to use a life coach to succeed.
2. Nia Long
Long has been an actress for over 20 years, and she says she learned how to live a fulfilled, happy life as a result of working with her coach.
3. Danny Bonaduce
Former "The Partridge Family" star, Danny Bonaduce, had a rough go at life in previous years involving drug use, homelessness and run-ins with the law. With the use of a life coach, he was able to center himself and get his life back on track. He now is a life coach himself, and he helps others tackle difficult issues in their lives.
4. Von Miller
The Denver Broncos star linebacker had issues in 2011 and 2013 with the law. The NFL doesn't reward players for this type of behavior. Having these types of encounters with the law will lead to a downfall in your career as a professional athlete.
Luckily, he got a hold on his behavior and sought for a partner-in-crime to help turn his life around. Since then, he's become a Super Bowl champion and Super Bowl MVP.
5. Metallica
The famous band was going through heated feuds, and with the help of a life coach, Metallica was able to align themselves with a common goal and work together in harmony to achieve it. This was no easy task for the coach who worked with the band.
Several exercises resulted in physical altercations between bandmates. There was even a documentary released in 2004 about the discord the band was experiencing, entitled, "Metallica: Some Kind Of Monster."
The creative duel the band was undergoing was finally overcome, allowing them to release their subsequent album, "Death Magnetic." Critics said this album helped the band return to form. Their coach, Phil Towle, had a lot to do with this.
6. Leonardo DiCaprio
DiCaprio has worked with the head honcho of life coaching, Tony Robbins. Maybe it was Tony's idea for Leo to stand in a freezing river while eating raw fish during the filming of "The Revenant."
DiCaprio is quiet about his experiences with Robbins, but his success and persistence speak for themselves. Even though he fell short on numerous Oscar wins for Best Actor, DiCaprio quietly continued to master his craft and focus on doing the job.
He was finally able to take home the shiny gold statue after winning the Best Actor award in "The Revenant." Good for you, Leo. It was long overdue.
7. Bill Clinton
You thought you had tough decisions to make? Try being president of the United States.
During his time in office, Mr. Clinton sought the guidance of Tony Robbins to help him make decisions that would dictate the future of the country and its citizens. You did good, Billy.
8. Serena Williams
During her career, Williams was constantly battling injuries to stay on the court. As you can imagine, the constant gruel of playing through injuries can take a toll when you're a high-performing athlete.
She worked with — you guessed it — Tony Robbins to persist and train through her injuries. It paid off in the end because she ended up winning a Grand Slam. No big deal.
9. Andre Agassi
At one point, Andre Agassi was ranked 126th in the world. Andre worked his butt off both on and off the court to become the number one tennis player in the world. He gave all of his credit to working with a life coach.
10. Hugh Jackman
For 20 years, Hugh Jackman wanted the opportunity to work with a life coach (Tony Robbins, to be specific). He heard numerous testimonials from other celebrities on how great Robbins was, and he wanted in on the action.
Finally, he had the chance to work with Tony, and he was in awe when Tony's first words to him were, "I have a gift for you." Jackman has referred to Robbins as a bright light. I haven't met Tony Robbins, but I'm not surprised to hear that.
11. Chuck Liddell
When it comes to the MMA, there are two components to becoming a champion: the physical and the mental. Chuck Liddell was one of the greatest fighters in the game, and he had one of the best physical trainers to help him get to that point in his life.
Although he was great from a physical standpoint, he knew he needed someone to help him on the mental aspect in order to truly become a champion. He worked with Tony Robbins (this guy must be good) to strategize and complement his physical training. Liddell's achievements speak for themselves.
People don't achieve great success on their own. Even when you've reached the ultimate peak of success like President Clinton, you need someone to help you plan, strategize and execute.
Once you've reached the pinnacle of your career, it's more important than ever to manage your money, relationships and health. No matter your income, level of stardom or goals for the future, a life coach will be there along the way to help you become the best you can be.