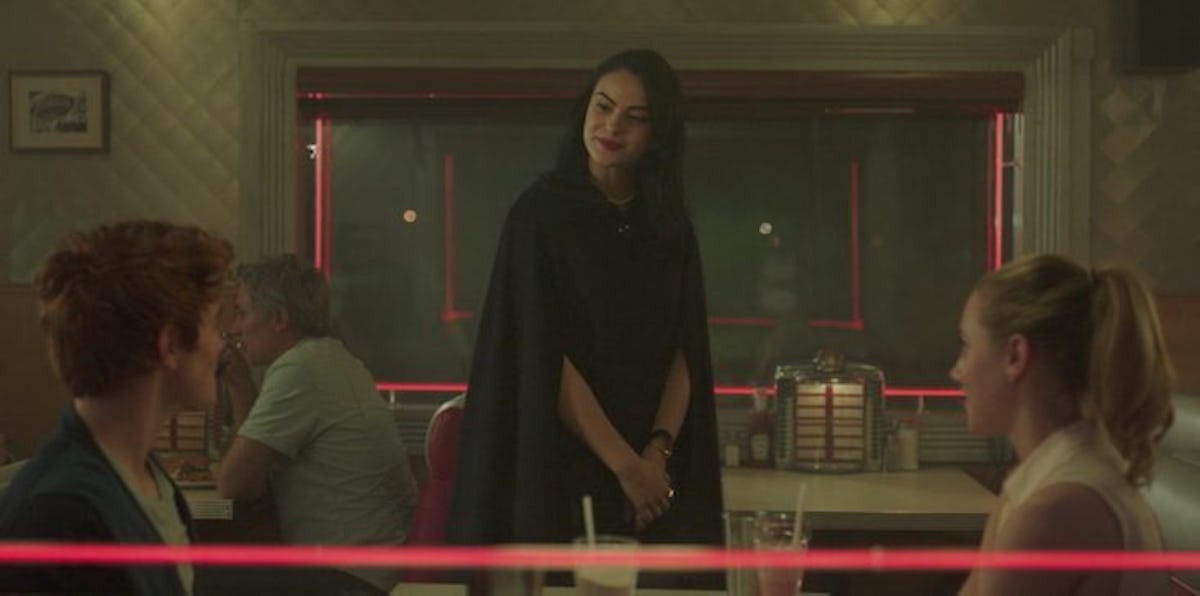 8 Things To Know About Camila Mendes, The Actress Who Plays Veronica From 'Riverdale'
Netflix
A year ago, Camila Mendes was an NYU grad starring in her very first paid acting gig, an IKEA commercial about bathroom storage. Today, she's enjoying the spoils (Teen Choice Award nomination, 3.2 million Instagram followers) of having hit it big playing Veronica Lodge in the CW's breakout hit series Riverdale. Fans haven't had much time to get to know Mendes since her whirlwind career began, so you definitely aren't alone if you've found yourself googling "Who is Veronica from Riverdale dating in real life" or "Where is Veronica from Riverdale from?"
Google no further, my friends. We've compiled a list of everything you need to know about the scene-stealing actress below.
1. She's Brazilian-American
Mendes was born in Virginia to Brazilian parents and even lived in Brazil for a year when she was younger. In an interview with GLAMOUR she explained that she was drawn to Veronica's character because "she was Latina, and they weren't trying to push any stereotype on her. She just was Latina, which is how I feel." Speaking on the state of Latinx people in Hollywood, she told Latina magazine "We need to show different personalities within the Latina community. It can't just be this sexy firecracker… I want to see more. Where's the nerdy Latina? I want to see that."
2. She Went To School With Cole Sprouse
Mendes graduated from NYU's Tisch School of the Arts in 2016, a year after her Riverdale co-star, Cole Sprouse, graduated from the university's Gallatin School alongside his twin brother, Dylan. Mendes says that she crossed paths with Sprouse at parties but he didn't remember her when they met again for filming. She did admit that, along with most of her fellow cast members, she was a huge fan of The Suite Life of Zack and Cody and honestly, weren't we all?
3. She's Nominated For A Teen Choice Award
Riverdale has been nominated for a whopping eight Teen Choice Awards including Choice Drama TV Show and Choice Breakout TV Show. Mendes will find out on Sunday night if she stole enough scenes to take home the coveted Choice Scene Stealer surfboard.
4. Her Hair Is Naturally Lighter
KJ Apa, the brunette actor who plays the famously-redheaded Archie Andrews, wasn't the only Riverdale cast member who had to change their look to fit the bill. Mendes, naturally a brunette, had to dye her locks pitch black to play Veronica.
5. She's A Huge Fan of Gossip Girl And The O.C.
Mendes said that when she first read the role of Veronica, it felt like "a perfect fit" because the character seemed to be following in the tradition of strong teen girls like Blair Waldorf of Gossip Girl and Summer Roberts of The O.C. Mendes says she used to look up to those characters for their strength and confidence -- two traits she's definitely bringing to her role on Riverdale.
6. She Had A Long-Term Boyfriend
In September of 2016, Mendes posted an Instagram celebrating her and her boyfriend Ian Wallace's three year anniversary. She has since deleted the post and hasn't spoken publicly about him. This could mean the pair parted ways, or perhaps she's just trying to keep things private. After all, she did delete all of her old Instagram posts, not just the one of her and her (possible) beau.
7. She's Made Veronica Her Own
In the Archie comics, which serve as the source material for Riverdale, Veronica's concerns are mainly superficial. In the same way that Sprouse's Jughead is much less food-obsessed than his comic book counterpart, Mendes' Veronica is far more grounded and subtle than her print equivalent.
8. She Has A Tattoo
Mendes told Latina magazine that she has one tattoo under her breast reading "to build a home." She got it because she moved dozens of times as a child and had to learn not to rely on people or places to feel comfortable. Her tattoo is a reminder of her constant journey to build a home inside of herself that she can take with her wherever she goes. It's probably not a bad idea considering it looks like she might be going very far indeed.