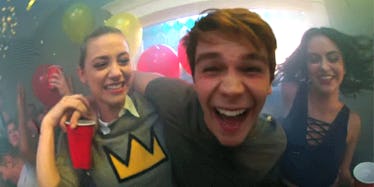 5 Best Moments From 'Riverdale' To Hold You Over Until Season 2
CW
We may have lost Pretty Little Liars this year, but in its place, we got Riverdale. The CW's dark, teen murder mystery adaptation of the Archie Comics quickly amassed a rabid fandom and got renewed for a second season that will contain nearly twice as many episodes as its first. Unfortunately, we still have to wait a couple months before checking back in with the citizens of Riverdale — Riverdale Season 2 will premiere on October 11 — but at least that gives fans time to relive the magic of Season 1.
Whatever God there may be is clearly looking out for Riverdale fans, because the whole first season is available on Netflix right now, making it super easy to watch and rewatch before Season 2. And with all the weird and mysterious stuff that goes on in this show, a rewatch might be a good idea for fans to try to pick up on new clues about what might happen next season. But of course, in the midst of all the mystery-solving hint-hunting, you can also relive some of the most iconic moments the show has already given us.
From Jughead's meme-worthy "weirdo" speech to Archie's epic house party, let's go over some of the most memorable, incredible scenes from Season 1 of Riverdale:
1. Jughead's "Weirdo" Speech
The moment that launched a thousand memes, Riverdale fans couldn't help but lose it when Jughead fully embraced his arsty, emo-kid persona to explain why he's a weirdo to Betty. "Have you ever seen me without this stupid hat on? That's weird!" Iconic.
2. Archie's Wild House Party
Since this is a show about lies and murder, we don't really get to see the broody Riverdale teens have fun too often. That's what made Archie's balls-to-the-walls house party scene so much fun for fans. Of course, the party ends on a sour note, but before it's ruined, we get to see Archie, Betty, Veronica, and everyone else just get wasted and dance around for a bit.
3. Betty's Dark Side
Betty Cooper may look like the sweet girl next door, but Riverdale put a dark twist on her comic book character. Early in the show, we see Betty put on a black wig and torture a misogynistic classmate to the point where she nearly killed him. We still don't know exactly why Berry has this evil streak, but it's clear we're going to see a lot more of it in Season 2.
4. Bughead Gets Together
A pairing that initially surprised fans but grew into the show's most beloved romance, Betty and Jughead began dating in the second half of the season after working together closely to solve Jason Blossom's murder. Now, Bughead fans are the most vocal and numerous shippers in the fandom. Unfortunately, things don't look great for the relationship's future after the Season 1 finale, so we'll have to wait to see if they stay together next season.
5. Every Time Cheryl Is A Savage
This might be just my opinion, but the best part of Riverdale is the over-the-top viciousness of Riverdale High's resident mean girl Cheryl Blossom. Though she does get some more emotional scenes as the season goes on, at the start of the show, Cheryl is just the perfect teen villain, giving fans the full Regina George fantasy with instantly iconic insults.