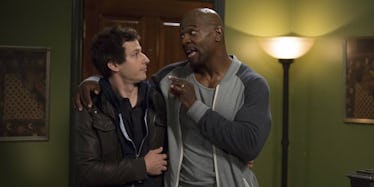 Terry Crews Reveals A Special 99th Episode Is Coming For 'Brookyln Nine-Nine' -- EXCLUSIVE
FOX
Making a hit network comedy these days is a bit like hitting the lottery.
For reference, since 2011, Matthew Perry has starred in Go On (NBC) which was canceled after one season, Mr. Sunshine (ABC), which was also canceled after one season, and The Odd Couple (CBS), which ran for two seasons and was canceled this May. That's three failed comedies on three networks in six years.
So, may I introduce you to the small about-to-be five-season miracle that is FOX's Brooklyn Nine-Nine. 
The cop comedy with Andy Samberg at the helm will hit a big milestone -- 100 episodes -- when its fifth season airs this fall. But they're understandably more focused on a different landmark -- 99 episodes.
Elite Daily had the chance to speak with Terry Crews, who plays Sergeant Terry Jeffords in the series, at the premiere of Marvel Universe Live! Age of Heroes at the Staples Center in Los Angeles on July 9.
He told us:
We've got a hundred episodes, which is great... having 100 episodes is like a dinosaur in TV land... we're gonna have a big special on our 99th episode, which makes a lot of sense.
The secret of their success, he says, is heart:
We [the cast] are a true family. It's so wild we've seen people get married, we've seen people have babies. And so the family keeps growing and getting bigger, and one thing I love now is actually in this season we've been getting more recognized then ever before. The New York Times ranked this one of the top shows to watch. We've been nominated for awards already, and so it feels really good because I think the fans are like, 'We're with you and we're solid.'
We asked Crews what fans could expect from season five and he told us:
(...) Jake [Peralta, played by Samberg] and Amy [Santiago, played by Melissa Fumero] are getting closer which is really cool. Everybody is kind of moving up in the biz. Amy wants to strive to become one of the leaders herself and I'm trying to become eventually a captain which another thing I'm trying to do so it is really cool. I love the way that every time you see an episode of Brooklyn Nine-Nine the world changes. Gina gets hit by a bus, but she comes back. But all of a sudden the world has changed forever.
Shows like Brooklyn Nine-Nine and FOX's other smash-hit, New Girl, are mindful of the fact that purely episodic sitcoms that lack real season arcs and actual character development just don't cut it anymore. I mean even Raj from The Big Bang Theory eventually spoke to a woman (after six seasons).
And Crews himself is well aware of how good his show is, seeming just as excited as the fans for its fall return.
Original reporting by Stephanie Ironson.