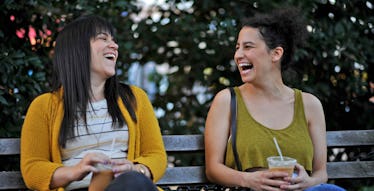 'Broad City' Music Supervisor On How Drake And J.Lo Help Define The Show – EXCLUSIVE
Walter Thompson/Comedy Central
If you're a fan of Comedy Central's Broad City, there's no doubt you've had K Rizz's symphonic masterpiece "YES B*TCH" stuck in your head for at least one extended period of time.
Not only do the show's stars and creators, Abbi Jacobson and Ilana Glazer, deliver topical, hilarious narratives, they've formed a team of talented artists who are responsible for making Broad City so brilliant -- one of them being music supervisor Matt FX.
After a screening of an episode from Broad City Season 4, Elite Daily spoke with Matt FX at Comedy Central's Colossal Clusterfest Festival in San Fransisco, California, about his start in the music business, involvement in the show, and what fans can expect to see in the upcoming season.
Elite Daily: How did you end up as the music producer for Broad City? 
It's kind of a long story, but I started off doing classical music when I was a kid, and kind of had a really crazy opportunity to supervise on a show called Skins when I was 17... and four or five years later, that led to working on Broad City.
ED: When you're working on the show, do you identify with the characters or the concepts when you're scoring each episode?
I think both? I feel like most of the things that have happened in the show, I know someone who has gone through [the same thing]. I identify with the city, I think, the most. You know, just like the craziness, the progression of a story, and how a night -- I mean that episode, the Airbnb one, where they wind up in the 40/40 Club and all the stuff like that -- that feels very quintessentially New York to me.
ED: What are you most excited about for Season 4?
There are so many things in Season 4, I just don't know what I can talk about. I think in Season 4 I have been pushed by the stories and by the episodes in directions that I never anticipated going in. We've got an episode in Florida. We've got an episode that, by necessity, 90 percent of the music was composed for. And getting to rope in all of my favorite producers who've contributed to the first few seasons, and kind of like Avengers-style have them pick apart an episode composing-wise has been so much fun. That's the fourth episode and I think once people see it, they'll be pretty excited.
ED: Is there any one song you would use to define the show as a whole?
I think there are a bunch of songs that I think fans have used to define the show. I definitely think that obviously the theme song and Drake 'Started from the Bottom' for a very long time was, like, very closely identified with the show.
I think that two of the songs from last season -- one was 'Yes, Bitch,' which was in that aforementioned 40/40 Club scene, and then one being 'Tigre' by Jarina de Marco, which was in the scene where Vanessa Williams cameos, 'Tigre' wound up being one of the two exclusives on the Broad City soundtrack. Those songs, I think, have been really tied in to the fabric of the show, and both weren't really big songs by comparison beforehand, so that definitely helped. I think anytime we can uplift a smaller song as opposed to 'Started from the Bottom' is preferred for sure. I'm so happy that this trailer is out because we're using 'Get Right' by J. Lo.
I remember when the girls hit me up a couple months ago being like, 'Hey, we need to start looking for music for the sizzle. Can you bring us a bunch of options?' And in that first day, like they texted me and I was like, 'What do you guys think of 'Get Right' by J. Lo?' and they were like, 'Oh, we'll listen to it. Can you send us a lot of options?'... And like they didn't listen to it and they still asked for more options and they wanted to listen to the options first and they were like, 'Well, can you keep looking?' and I was like, 'Did you ever listen to the J. Lo?' And then like I remember when I finally played it for them, Abbi [Jacobson] shot up like a rocket. They were sitting down for the entire listening thing and Abbi immediately just like jumped up and started dancing, and was like, 'This is it! This is it! This is amazing!' and I was like, 'Guys, this was my first suggestion like two weeks ago.'
Broad City Season 4 hits Comedy Central on August 23.