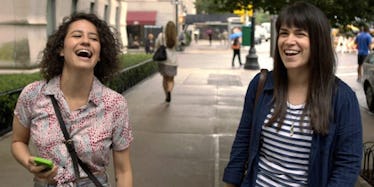 The List Of 'Broad City' Season 4 Guest Stars Is Here And It Will Blow Your Mind
Comedy Central
Abbi Jacobson and Ilana Glazer are finally spilling delicious details about Broad City Season 4 for hungry fans to slurp up.
While the new season doesn't air until August 23, fans can now bide their time fantasizing about the topical hilarity that will undoubtedly command the new season.
Jacobson and Glazer premiered the Season 4 promo, screened an episode from the new season, and participated in a Q&A hosted by Ilana's brother, Elliot Glazer, at Comedy Central's Colossal Clusterfest on June 3 in San Fransisco, California.
In addition to discussing details about their politically-charged new season, the power duo revealed the star-studded roster of guest stars fans can expect to see in Season 4.
Confirming the real-life authenticity of their on-screen relationship, Jacobson and the Glazer siblings bantered back and forth while running through the list of cameos.
IG: …We're so overwhelmed by this year. This year we have literal RuPaul f*ckin Charles, which is insane. AJ: And Jane Curtin – psyched. IG: Fran Drescher, Wanda Sykes, Susie Essman's back, um, dream? I don't even know ... Marcella Lowery.  EG: If you couldn't place her, she was Alvin's mom on The Cosby Show. AJ: And has been in like everything.
The screened episode also featured a guest appearance by SNL alum Jane Curtin, who Ilana Glazer referred to as "a f*cking genius" and "perfect human" after the screening.
In past seasons, we've seen the likes of Kelly Ripa, Amy Poehler, Hillary Clinton, Alan Alda, Vanessa Williams, Tony Danza, Adam Levine, Fred Armisen, Patricia Clarkson, Alia Shawkat, Seth Rogen, Amy Sedaris, and Rachel Dratch make guest appearances on the show -- a list that is synonymous with a feminist comedy nerd's wildest fantasy.
In addition to the perfectly curated list of guest stars, Season 4 promises a comedic escape from the societal terrors facing women and liberals.
Speaking on the up-to-date themes of Broad City, Glazer said,
Everything's more intense right now and it's like it feels more important to connect and more important to feel not alone in how scary and urgent and apocalyptic everything feels. It's like it feels more important to talk about it and … it's almost like before it was a little bit like, 'we all get it' and now it's like, 'just in case we don't, let's just make every f*cking point of it because it's gotta be clear.'
Make sure to catch Broad City Season 4 on Comedy Central on August 23.