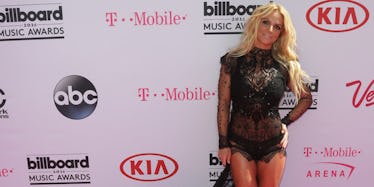 Britney Spears Just Dropped Her New Single And It's Actually Amazing
REX/Shutterstock
Guysssss, new Britney Spears is pretty effing good.
Truth time: Britney Spears hasn't really put out anything decent in a VERY long time. There is currently a debate at my desk as to whether or not anything on Femme Fatale (specifically "Hold It Against Me") was tolerable outside of teen dance clubs.
Even if it was, though, it didn't really pass that next threshold. New Britney Spears music at BEST is kind of tolerable but still mostly hollow and awkwardly pander-y to a sound and audience she is unfamiliar with.
I mean…
Wash that terrible sound off, though. Britney released some new music today, and I'm going to be honest, it's pretty good. Def not OG Britney good, but still 8,000 steps in the right direction -- and I can't emphasize enough how important this is -- away from Iggy Azalea.
The song is called "Make Me," and it's available for download on iTunes or Apple Music for all 89 of you who bought a subscription.
The 34-year-old mom's new song features Oakland rapper G-Eazy -- who CRUSHES it during his vocal cameo, by the way --  and is part of her ninth studio album, which is set to drop some time soon.
Citations: Britney Spears Drops New Single Make Me See the Super Sexy Cover Art (Us Weekly)