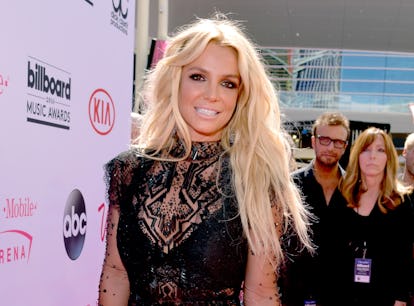 Britney Just Introduced Her New Puppy And He's Adorable
Lester Cohen/BBMA2016/Getty Images Entertainment/Getty Images
Britney Spears has a full house. On Feb. 15, the singer introduced her adorable new puppy, Sawyer, on Instagram. Spears shared a video of the white Australian Shepherd simply vibing and expressed in a caption how much she loves her new family member.
"Geez .... can you have two loves of your lives because he comes in second," she wrote on Instagram. "I found him in Maui like a dream and took him home with [my] immediately. It's funny ... he doesn't talk back but it's like he understands what I'm saying!!!!"
Spears continued to gush about the pup, noting she believes he "understands" her due to his crystal blue eyes. "He makes my heart melt," she said. "He needs me and I like that!!!!!"
In January, Spears and her fiancé Sam Asghari took a vacation to Maui. Spears shared a recap of the trip on Instagram, highlighting a view of the ocean, friendly chickens they met, and time spent in a hot tub. It seems her biggest momento from the trip may be her new pup.
Still, Sawyer isn't the only furry animal joining the Spears family. In the same post, she mentioned a new cat. However, the cat remained unseen in the video, though Spears promised to introduce her later.
"My cat is French and very peculiar," she wrote. "She looks at food as if she is 30 for two min before she eats it ... she's extremely smart and she looks like a miniature cheetah 🐆 !!!!" Spears said.
Spears then explained how the cat already knows how to hide in her house. "[I] and security couldn't find her for 2 hours and then when we did she would disappear again. Anyways I have a house FULL of small animals and I like it besides the potty training 😂💩 !!!!" Spears continued.
At the end of her video debuting Sawyer, Spears also added a clip of her dancing in what looks to be a neon green bathing suit. She ended her caption by saying that Sawyer made a very brief appearance at her feet while she danced. Looks like Sawyer is enjoying his forever home.