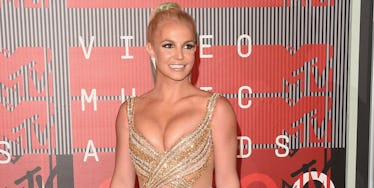 Did Britney Spears Photoshop This Sexy Bikini Pic By The Pool?
Getty Images
Either Britney Spears photoshopped this Instagram picture or she has the worst case of scoliosis ever recorded on film.
Let me first say, you will be hard-pressed to find someone more pro-Britney than I am. She's been through a remarkable amount in her life but has come through it all like a goddamn champion.
She survived Kevin Federline, public breakdowns, TMZ constantly following her, Perez Hilton, Justin Timberlake, this "GMA" performance and approximately 60 other things, but has risen above it all like a beautiful phoenix who occasionally makes out with Madonna on stage.
It's honestly impossible to not be #TeamBrit when you look at her now. She's clearly straightened herself out against the odds and has raised two super adjusted kids.
Also, she looks FANTASTIC.
Which makes it somewhat depressing that she posted this seemingly photoshopped picture of herself to Instagram.
Nobody has an arch like this. Rome doesn't have an arch like this.
I MEAN.
Plus, notice anything weird about where the pool corner ends and the water under her back?
Here, we "CSI"-d it for you.
You don't need to do this, Brit!
Citations: 'Bad photoshop! Where's the pool's edge?' Fans accuse Britney Spears of faking jaw-dropping bikini snap Read more: http://www.dailymail.co.uk/tvshowbiz/article-3502605/Bad-photoshop-s-pool-s-edge-Fans-accuse-Britney-Spears-faking-jaw-dropping-bikini-snap.html#ixzz43YldIBP0 Follow us: @MailOnline on Twitter | DailyMail on Facebook (Daily Mail)