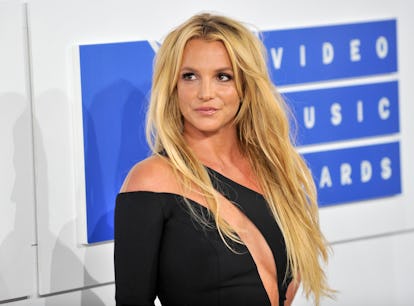 Britney Is A Stan Of This Iconic Hit From Blackout
Allen Berezovsky/WireImage/Getty Images
It's a good day to be a Blackout stan. And if you're not one, it's still time to be. The 2007 album has always been a misunderstood gem in Spears' discography. It was released during a tumultuous era in the singer's life, where her mental health took a massive nosedive for the worse. The public scrutiny seemingly overshadowed the record's release, and it wouldn't receive the proper recognition it deserved until a few years later. However, there's a select few who understood the album's pulsing prowess and infectious groove from the beginning, including Spears herself. Recently, the pop darling revealed her favorite song at the moment, and it's a sickening standout on Blackout.
In a now-deleted Instagram post, Spears revealed she has a soft spot for "Get Naked (I Got A Plan)." BritneyCharts — a fan account for the singer — shared the post on Twitter, and sees an older video of her dancing to the steamy record. "This is a repost from Maui last year!!! I know it's not that great BUT the song is my favorite song I've ever done!!!," she said in the caption of her post.
She continued, hinting her then conservatorship didn't allow her to fully enjoy the track upon its release. "It was really weird because my dancers took the stage for this song. Oh well !!! I listened to this song today and actually realized it for the first time!!! I guess it was all those rules you know !!! Guess all those rules and not having a voice for 13 years in what I wanted gave a lot of people a thrill ride," she said.
This isn't the first time Spears has embraced "Get Naked," which personally sits in the top five of her greatest tracks on the album. As for number one, "Break The Ice" takes the cake with ease. Sorry, "Gimme More" — you're still iconic. In February 2022, Spears posted another Instagram video of her dancing to the nude anthem in what appears to be a studio.
"Get Naked" has that dark, winking thrill of dance-pop that makes Blackout such a force. The tune opens with a breathless nod to Danja, who helped produce several gems on the album. The production eases in afterwards, expanding into a throbbing rhythm that incorporates Danja's 'hi-hat' one-liners and whispery croons from Spears about flaunting her birthday suit. It's sultry, deliciously sleazy, hypnotic — all the riveting qualities needed for a red light special-tinged pop hit.
This revelation follows Spears' previous statement that her In The Zone classic, "The Hook Up," is her favorite song from her catalogue. Similar to "Get Naked," "The Hook Up" didn't receive the single treatment; however, it oozes a lusty power strong enough to be one. Coasting on dancehall-inspired arrangements, this saucy number sees Spears in the mood to... well, hook up.
In The Zone, which released in 2003, is another superb offering from the singer's discography, and houses the greatest of her vocal abilities. Not to mention, it was a perfect stepping stone in her graduating from her 'not a girl, not yet a woman' brand of pop. She eventually hit the upper echelon in Blackout, fully settling into that admirable cockiness of "It's Britney, b*tch."
By these two choices, it's clear Spears is an artist that can recognize her greatest work.