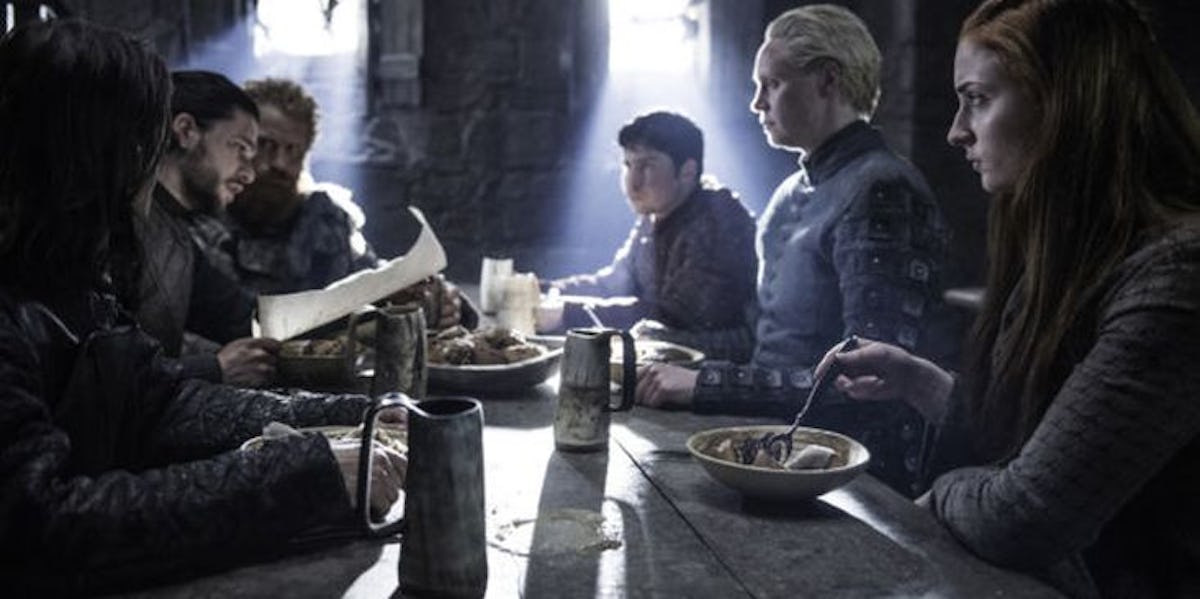 This 'GOT' Couple We All Ship Has Spilled Over Into Real Life And We Can't Even
HBO
Forget Daenerys Targaryen and Jon Snow. Forget Missandei and Grey Worm. There's only one romance that really matters to fans of Game of Thrones, and that's the as-yet-still-unconsummated lust on the part of Tormund Giantsbane towards Brienne of Tarth. The pairing was so unexpected and so comically and adorably unbound by Westeros more that it became an instant hit. And now Gwendoline Christie, who plays Brienne, says that the lusty looks between Brienne of Tarth and Tormund from Game of Thrones aren't limited to on-camera.
Appearing for a post-Game of Thrones Season 7, pre-Star Wars: The Last Jedi interview on Late Night With Seth Meyers, Christie says she was initially taken aback by the sheer ferociousness of Tormund's passion for her when the first scene between them was recorded back in Season 6, when she and Sansa arrived at Castle Black. As fans of the couple may already know, a love affair between these two characters was not on the showrunners' radar. The stage direction merely read something along the lines of "Tormund looks at Brienne like he's never seen a woman of that size before."
Kristofer Hivju, who plays Tormund, had other ideas though, and threw Brienne to look of a man who had just seen the woman of his dreams, and it was off to the races.
But what fans don't know is that Hivju is one of those method actors who doesn't come out of character between takes. So those looks of lust aren't just on camera. They're off-camera, too.
Personally, I cannot imagine heading to the catering tent only to find this looking at me from across the table.
That Christie isn't dying of laughter all the time on the show is proof of her professionalism. I personally would "dissolve" as she puts it, at every given moment.
And that's not taking into account how good the man looks cleaned up, or that he offers pancakes.
Personally, I just want Brienne's stipulation for sleeping with him -- that is, if Tormund survives the finale and returns to Winterfell -- to be that he shaves.
Don't we all? That right there is every reason to hope that Tormund survives the destruction of Eastwatch and the march of the wights from beyond the Wall to the final year of Game of Thrones.