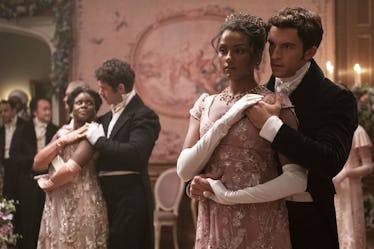 The Official Bridgerton Season 2 Trailer Is 3 Minutes Of Pure SWOON
No one speak to me until March 25.
Netflix
Netflix's Bridgerton Season 1 took streaming by storm. One month after its premiere, the series became Netflix's most-watched show, reaching 82 million viewers as of Jan. 27, 2021. With that kind of debut, a Bridgerton Season 2 renewal was practically assured, even before a trailer arrived that promised the show's return.
Bridgerton's numbers made it one of Netflix's top series of all time, and naturally, the powers that be at the streaming service wanted to go all in. With eight novels in the Bridgerton book series alone (nine if you count the series of short stories referred to as the "Second Epilogues"), there's plenty to draw from. So Netflix took a page from another of its major series, The Witcher, and began to commission spinoffs, such as a limited prequel series focused on a young version of Queen Charlotte.
Bridgerton also went so far as to confirm the show was renewed for two more seasons beyond Season 2, making Bridgerton one of the only Netflix series, along with The Crown, to have multiple seasons confirmed ahead of time.
Here's everything to know about Bridgerton Season 2 so far.
Bridgerton Season 1 is streaming on Netflix.
This article was originally published on