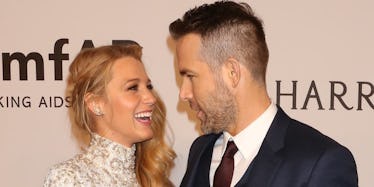 Blake Lively Said The Sweetest Thing About Why She Married Ryan Reynolds
REXShutterstock
Oh my God, Blake Lively, we get it, OK?! Your relationship is perfect!
Is it not enough Blake Lively has perfect hair, perfect fashion sense and a perfect face? Must she also have the cutest, most perfect relationship with Ryan Reynolds, too?!
Like, OK, I'm sure maybe Blake has fought with her husband from time to time. Maybe. Like over who should buy dinner or something gross like that.
But when she hits me with these married-my-best-friend quotes, my heart first melts at the cuteness and then fills with rage over how unfairly perfect they are.
Just listen to this infuriating quote the 28-year-old actress gave Marie Claire magazine for her upcoming July cover story, and then try to tell me Blake and Ryan aren't perfect. She said,
I knew he would always be my best friend for my whole life. That was the biggest thing to me. I'd never known anything like the friendship that I had with him. I could like him as much as I loved him.
GAAAAAAHHH! TOO! PERFECT!
Cool cool cool, friends for their whole lives. So, uh, I definitely still have time to find love like that... right...?
In the interview, Blake also talked about raising her daughter in a life of fame and how she got into acting.
If you're wondering how Blake looked on the cover for that story, you haven't been paying attention. She looked perfect, of course.
If you want to be even more angry, watch her being perfect in this behind-the-scenes video for the cover shoot. God dammit.
Citations: Inside Blake's Big Year (Marie Claire)