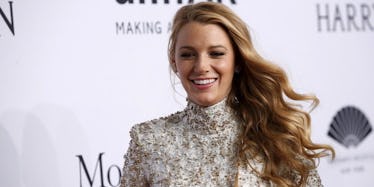 Blake Lively Slams Comedian For Making An Offensive Joke About Rape
REUTERS/Andrew Kelly
Blake Lively is pretty pissed off about the remarks made by a French comic at Cannes Film Festival.
The incident happened on Wednesday while Laurent Lafitte was serving as master of ceremonies at the screening of Woody Allen's newest movie "Café Society."
During his hosting duties, the French comedian quipped about Woody Allen, who directed and wrote the film,
It's very nice that you've been shooting so many movies in Europe, even if you are not being convicted for rape in the US.
If you don't get it, the joke is a reference to Roman Polanski, who has been a US fugitive ever since having sex with a 13-year-old girl in the '70s. Funny? Kinda. Tasteless? One hundred percent.
The comment also came hours after Ronan Farrow published an article for The Hollywood Reporter where he questioned why the media has ignored sexual assault allegations against Allen from his sister, Dylan O'Sullivan Farrow.
At a luncheon on Thursday, Blake Lively spoke out against Lafitte and his joke, questioning the appropriateness of using rape jokes at all in any context.
She told Variety,
I don't think any jokes about rape, homophobia or Hitler is not a joke. I think that was a hard thing to swallow in 30 seconds. Film festivals are such a beautiful, respectful festivals of film and artists and to have that, it felt like it wouldn't have happened if it was in the 1940s. I can't imagine Fred Astaire and Bing Crosby going out and doing that. It was more disappointing for the artists in the room that someone was going up there making jokes about something that wasn't funny. What on Earth was happening? It was really confusing.
For what it's worth, Allen already came out and said he didn't care about the joke being made. He told Variety on Friday,
I am completely in favor of comedians making any jokes they want. I am a non-judgmental or [non]-censorship person on jokes. I'm a comic myself and I feel they should be free to make whatever jokes they want.
Was the joke too far or is Lively overreacting?
Citations: Blake Lively Responds to Woody Allen Rape Joke at Cannes: "It Was Really Confusing" (Cosmopolitan)