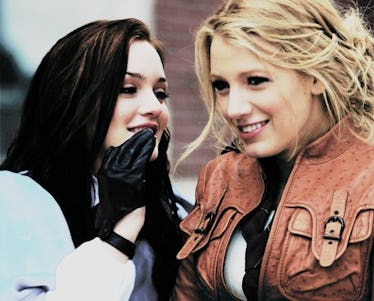 Blake Lively Reveals If She'd Do A 'Gossip Girl' Reunion: 'Never Say Never'
Warner Bros.
Hey there, person procrastinating at their desk on a Friday who's trying to figure out if this article is Serena van der Woodsen clickbait or not, Gossip Girl here.
The good news is Blake Lively is not opposed to bringing her iconic "Gossip Girl" role back one day. The bad news is she, like, has a legitimate life now with a husband and children and doesn't have seven available years to frolic around New York City.
When asked if she'd be interested in returning to the Upper East Side for a grown-up version of "Gossip Girl," Blake Lively told Variety,
It sort of all depends. Would I do seven years of the show? No, because it's hard work and I've got my babies, and I don't want to be away from them that much. But I've just learned in life you never say never. I'm looking to do something that I haven't done yet, not something that I did. But would I do that? Who knows? If it was good, if it made sense. We had so much fun shooting and living and working in New York City.
That's fair, I guess. 
Blake Lively and husband Ryan Reynolds have two daughters, James and Ines.
The couple officially took over as the ultimate "OMG GOALS" couple when they got married in five years ago, hardly comparing to Blake's relationship with her fellow castmate Penn Badgley.
Penn and Blake dated for three years and ended their relationship during the show's running in 2010.
Penn, who played Dan "Lonely Boy" Humphries on "Gossip Girl," recently got married to Domino Kirke, so it seems like he's also officially over Blake. 
While the hopes of seeing the gang return to the Met steps may seem less than certain, you know you'll never stop loving (xoxo) "Gossip Girl."