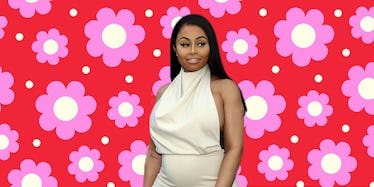 Blac Chyna Just Posted Flawless New Photos Of Her Growing Baby Bump
REX/Shutterstock
Wait, Blac Chyna is PREGNANT?
WHY DIDN'T SHE SAY ANYTHING ABOUT IT? I had no idea!
Oh, hold on, maybe she did mention it... once... or twice... or all summer.
So yeah, Blac Chyna is most definitely pregnant with the newest member of the Kardashian family, and she has not been shy about showing off her baby bump.
Admittedly, she does look pretty flawless. Here's the latest update from her Instagram:
She wrote in the caption, "Why should I watch my weight when I'm pregnant," which seems like a pretty valid question to me.
I mean, I don't even watch my weight when I'm not pregnant. So yeah, I think you're definitely good, Blac Chyna.
How is it possible to look this put together while pregnant?
It's been almost exactly two months since we first got the announcement Blac Chyna and Rob Kardashian are expecting their first child together.
We've had several baby bump updates since then, and even an ultrasound picture, but no word on a due date or sex of the baby yet!
Don't worry, though, I have no doubt these crazy kids will keep us updated.