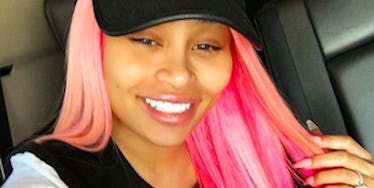 Blac Chyna Posted The Most Adorable Video Of Her Son Rubbing Her Baby Bump
Instagram
Blac Chyna just posted the most adorable Instagram video, and you have to see it.
Rob Kardashian's fiancée spent the evening with her 3-year-old son, King Cairo.
She showed off her baby belly to the camera, letting her fans know she's well on her way.
Then King Cairo did the CUTEST THING EVER and rubbed his mommy's belly. It looks like he's pretty excited to become a big sibling.
You can watch the precious moment between King Cairo, Blac Chyna and her baby in the video below.
AWWWWWWWW. What a beautiful family. It's always fun to watch Blac Chyna take videos of her son. King Cairo is the real MVP of her Snapchat stories.
No, really. Watch him say, "I love you." DOESN'T THIS WARM YOUR HEART?
Watch Blac Chyna feed him. I can't handle the cuteness.
Look at him turn into a dog. Stop it right now.
ALSO WATCH THIS. IDK WHAT IS HAPPENING, BUT I LOVE IT.
King Cairo, you're gonna be an awesome brother. Keep it up, kiddo.
Citations: Blac Chyna Snapchat King Cairo Rubbing Belly (PEOPLE)