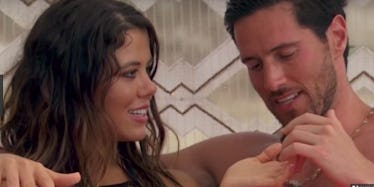 'Bachelor In Paradise' Fans Stand Up For Christen During "Scallop Fingers" Drama
ABC
If you've been keeping up with the drama on Bachelor in Paradise, then you know that Christen showed up recently with the ever-dangerous date card and threw a wrench in Jasmine and Matt's relationship when she asked the bachelor to go on a date. Naturally, Jasmine was not having it because she and Matt have been together pretty much all season; basically, she exploded and told everyone in paradise a story about Christen eating leftover scallops with her fingers in a hot car, which earned Christen the nickname "Scallop Fingers." For good reason, fans of the show on Twitter are not at all pleased with hearing Christen's nickname.
I can't say I blame the peeps on Twitter; I mean, it's one thing to hear "Scallop Fingers" one time in a two-hour episode, but I feel like I heard it about 80 times from every contestant and Wells' puppet. ABC even took advantage of the joke by making the label beneath Christen's name in her interviews say "Scallop Fingers." It's straight-up bullying. Several contestants mocked Christen behind her back and to her face all because she went on a date with someone. Maybe I'm being dramatic, but is that not the point of the show? One way or the other, mocking Christen and laughing in her face promotes bullying in a way that should not be represented positively in mainstream media.
There are better ways to get ratings than mocking contestants, and the drama between Matt, Christen, and Jasmine was plenty entertaining without the "Scallop Fingers" narrative being added.
Hopefully this episode marks the first and last time we'll see any contestant bullied; I'm here for the drama, but not when it involves someone being mocked. If anything I wanna see Christen and Jasmine call Matt out for being a total f*ckboy and lying to them both.