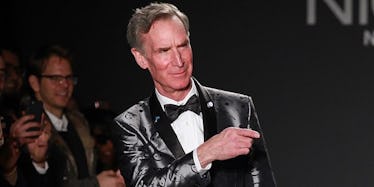 Bill Nye Has A Message For Climate Change Deniers: 'Get Over It'
REX/Shutterstock
Hold on to your iPhones, '90s kids, because Bill Nye is back, baby.
And this time, he's not messing around with anyone who denies the cold, hard truth about climate change.
The 61-year-old scientist and TV show host — best known for the '90s children's science show, "Bill Nye the Science Guy" — is coming back to the screen with his new Netflix show "Bill Nye Saves the World."
The show, which will be begin streaming on April 21, is not for kids this time, but for the audience who grew up watching Bill in their classrooms.
Bill and special guests will cover an array of scientific topics in this new talk show — including political subjects like vaccination and climate change.
In a roundtable interview on Thursday, which I had the opportunity to attend, Bill explained how his approach to these so-called controversial subjects is different than it was on "Science Guy."
He said,
In those days we did several climate change demonstrations that left it open. Like, 'If this were to happen…' Don't want to scare the kids, that kind of thing. But now climate change is really serious, because nothing got done in the last 25 years.
And when asked if he had a message for people who are still denying climate change, he said,
Get over it.
He went on to address his worries about the new presidential administration's affect on climate change.
In particular, he's concerned about the appointment of Scott Pruitt to the EPA, who is both a climate change denier and currently suing the agency over the Clean Power Plan.
Bill said,
I'm not trying to be political, but climate change is real, and we've hired people to run the Environmental Protection Agency who have tried to sue it. That's just not appropriate.
This Netflix show will not be the first time since "Science Guy" that Bill has attempted to educate the public on the serious threat of climate change.
In 2015, he made a short video with National Geographic titled "Climate Change 101 with Bill Nye."
"Bill Nye Saves the World" will begin streaming on Netflix April 21, 2017.
And who knows? Maybe Scott Pruitt will tune in.