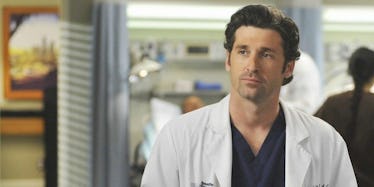 The Biggest 'Grey's Anatomy' Shocker In 10 Years And What Happens Next
Buena Vista Home Entertainment
Warning: Spoilers ahead.
I remember watching the pilot episode of "Grey's Anatomy" when I was 14. I was in eighth grade and watched it with my parents.
There was a flash of Derek's cute butt (yet to be crowned McDreamy) after he and Meredith's one-night stand following drinks at Joe's Bar. My dad dipped out to watch Sports Center.
My mom and I quickly bonded over the first Shonda Rhimes show we would bawl/brawl over for the next decade.
Ever since that mid-season pilot came into our lives 10 years ago, Dr. Derek Shepherd has been one of the well-known and, dare I say, dreamiest TV doctors, and characters, in general, since another certain silver fox played Dr. Ross on ER.
He's been a lover, a fighter, a cheater, a father, a seducer, a survivor and a badass surgeon. And, last night, they pulled the plug on the sexiest surgeon to ever walk the halls at Grey Sloan Memorial Hospital.
That's right, kids; if you didn't already see it on social media, after 10 years, two kids, multiple traumatic accidents, an affair, a tumultuous relationship and the best damn hair you'll ever see on ABC, McDreamy lost his life.
The death shocked us (still remaining) Grey's fans, who have seen countless doctors come and go by way of plane crashes, deranged shooters and horrendous car wrecks.
But, none could have suspected Derek, our McDreamy, to leave us before the series was over.
Maybe this would be a perfect time to end the series -- weren't we just watching it for Dr. Shepherd, anyway?
Now, dark and twisted Meredith is going to come back, complete with her resting bitch face and pessimistic outlook on everything.
Show creator Shonda Rhimes, who is known for her plot twists and disdain for killing off fan favorites (see: George and McSteamy), didn't hold back with her Thursday night melodrama.
The first half of the show had McDreamy doing his thing, saving lives after he witnesses a two-car accident on a backroad in Washington. Eventually, the ambulances arrive to take away the injured who would have died without him.
Derek hops back in his car, takes his eyes off the road as he's stopped in the middle of the highway (WHY WOULD YOU DO THAT DEREK!? WHY!?) and gets t-boned by a semi. Bye.
What follows is a stream of consciousness narration by Derek, as he knowingly is treated in what can only be described as a sub-par, middle-of-nowhere treatment center.
Let's just say, had Derek been at Grey Sloan, this wouldn't have been an issue.
A young, female doctor knows he needs a head CT, and, of course, Derek, in his mind, is saying, "You go girl! Yes! That's so what I need."
But, it's a man's world, as Shonda so often likes to point out, and the gruff, misogynistic, older ER doctor dismisses the woman and goes for the abdominal surgery, instead.
Cue the sobs when Derek says, "I'm going to die because these people aren't properly trained."
Fast-forward a few snips and stitches, and Derek has blown a pupil on the operating table.
(Note: I've basically gone through med school, courtesy of watching all eleven seasons.) For you, non-surgical residents, "blowing a pupil" means Derek Shepherd is brain dead.
Cut to Meredith and the ominous, flashing police lights at the MerDer McMansion, and you know it's over.
So, what does this mean for our beloved Seattle surgeons? Rhimes issued a statement, saying:
Now, Meredith and the entire 'Grey's Anatomy' family are about to enter uncharted territory as we head into this new chapter of her life. The possibilities for what may come are endless. As Ellis Grey would say, the carousel never stops turning.
I guess that means Rhimes is not ready to give up on "Grey's," yet. There are rumors of new additions to the cast and contract extensions for current actors, which should mean nothing because Patrick Dempsey had just signed a two-year contract.
So, get ready, because dark and twisted Meredith is about to come out of the shadows.
It's a beautiful day to save lives, people. Oh, wait… RIP, McDreamy.