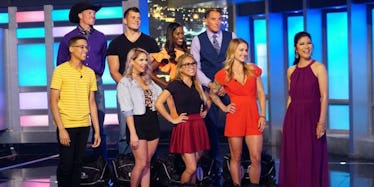 This 'Big Brother' Housemate Is Secretly A Trump Supporter, So Prepare For Drama
CBS
Season 19 of Big Brother officially kicked off on Wednesday night, and you know what that means: It's time for an insanely dramatic summer full of crazy twists, wild speculation, and a group of people who we'll all probably wind up passionately hating in about a month.
In most of the recent seasons, the premiere episode involves a contestant or two whispering a potentially game-altering secret about themselves to us they plan on hiding from the other housemates — like being a twin, an alum's sibling, a police investigator or even Ariana Grande's brother — but that didn't really happen this season.
The closest we got to a contestant disclosing some interesting dirt to us is Megan hiding the fact she was in the military and Dominique hiding her job as a nuclear engineer, neither of which are that exciting. But thankfully, the internet has dug up the dirt on one contestant that is sure to cause a major stir in the house if it gets out.
Turns out, one contestant on the show is a major Trump supporter, but is hiding it from the others and since it didn't come up in any DRs or intros yet, hiding it from the viewers as well. And no, it's not Cody, the military veteran that lives in Texas.
Surprisingly, Jillian is the resident Trump supporter in the house.
A week ago, friends of Jillian reportedly told the Central Florida Post (Jillian lives in Las Vegas now, but is originally from Florida) she and her family were major supporters of Trump during the 2016 election. She reportedly is a huge proponent of Trump's campaign promise to build a wall on the Mexican border.
Recap site BuddyTV reports Jillian is planning to hide her political opinions from the rest of the house throughout the season, but I have a feeling it's going to come out sooner or later.
To make things even more interesting, Jillian seems to have already found herself in the first alliance to be formed this season, with Ramses, Alex, and Megan. But the other members of that group don't exactly seem to share the ultra-conservative views that Jillian is hiding...
Obviously, politics and Trump are unavoidable topics of conversation right now, so it'll definitely be coming up in the house a lot. We'll just have to see how well Jillian can bite her tongue.