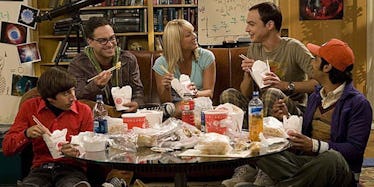 The 'Big Bang Theory' Cast Took Pay Cuts To Offer More Money To 2 Female Stars
CBS
The Hollywood pay gap rages on, but the actors from "The Big Bang Theory" are doing their part to make things a little more fair.
A new report from Variety reveals stars Jim Parsons, Johnny Galecki, Kaley Cuoco, Kunal Nayyar and Simon Helberg — aka the five main characters — are taking a pay cut in their new contract in order to get their co-stars Mayim Bialik and Melissa Rauch a raise.
The five actors who play the lead roles of Sheldon, Leonard, Penny, Raj and Howard famously make $1 million per episode, while Bialik and Rauch (Amy and Bernadette) reportedly make around $200,000.
But according to Variety, multiple sources say the big five offered to each take a $100,000 pay cut, to free up $500,000 to get both Bialik and Rauch up to about $450,00 an episode.
(Which is still pretty far from ONE MILLION, but is a lot better than it was.)
It's true the two actresses haven't been on the show as long as the main five. Both joined in season three, and the show is currently in season 10.
But the two have become clear staples in the cast, with Bialik being nominated for four Emmys for her role as Sheldon's love interest.
It would be a shame if either character were to leave the show.
Unfortunately, Variety reports it is not looking good for Amy and Bernadette reaching that coveted one million mark, due to production costs and syndication fees.
It sounds like this sacrifice from Parsons, Galecki, Cuoco, Nayyar and Helberg might have been the only way to get these actresses at least part of the raise they deserve.
Major kudos to that cast camaraderie.
Neither actress commented directly on the contract negotiations, but Bialik did post a rather telling photo on Instagram on Tuesday.
In the caption, she wrote,
What happens when you finally decide to stop procrastinating and just balance the darn checkbook. Oh well.
Now why would she be balancing her checkbook, I wonder?
Citations: 'The Big Bang Theory' Stars Mayim Bialik and Melissa Rauch Seek Parity in New Contract (Variety)