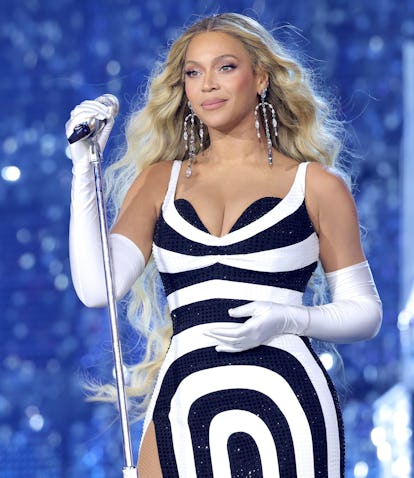 Beyoncé Re-Added Her Lizzo Shoutout To "Break My Soul" Amid Controversy
This lyric change caught everyone's attention.
Kevin Mazur/WireImage/Getty Images
Beyoncé isn't letting Lizzo's current legal controversy break her love for her fellow singer. During the Atlanta stop of her Renaissance Tour, Bey made sure to emphasize Lizzo's name during her "Break My Soul (Queens Remix)" performance, as well as include a special shoutout of support. Previously, Beyoncé skipped over the Lizzo lyric in the song shortly after Lizzo's dancers filed a lawsuit alleging that she had harassed and created an unsafe working environment for them, so this "Break My Soul" lyric change definitely caught everyone's attention.
During her Aug. 14 concert in Atlanta, GA, Beyoncé used her "Break My Soul" performance to send a message of love to Lizzo. The "Queens Remix" of the Renaissance single namedrops dozens of influential female artists throughout history. Bey added some extra oomph when singing Lizzo's name at the show, and even shouted, "I love you, Lizzo!" afterwards. A fan-recorded video of the special shoutout quickly went viral on social media, considering Beyoncé had recently skipped over singing Lizzo's name after the singer had become embroiled in a legal scandal.
On Aug. 1, a group of Lizzo's backup dancers filed a lawsuit against the performer, claiming they experienced racial discrimination, sexual harassment, and an unsafe workplace while employed by Lizzo. Lizzo denied the claims in an Instagram statement, calling them "false allegations" from former employees who had been "inappropriate and unprofessional" on tour.
Notably, the day that the lawsuit was filed, Beyoncé omitted Lizzo's name during her "Break My Soul" performance in Foxborough, MA. As caught in a viral fan video, Beyoncé sang "Badu, Badu, Badu," in place of "Badu, Lizzo, Kelly Rowl." While some fans interpreted this as shade towards Lizzo, others saw it as a callout to Erykah Badu, who seemed to diss Bey's style a couple days earlier on Instagram.
Beyoncé reinstated the Lizzo lyric at her next concert stop in Washington, D.C. And after her Atlanta performances, it definitely sounds like the shoutout is here to stay as the Renaissance Tour continues on.