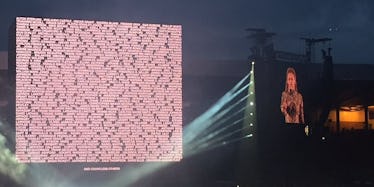 Beyoncé Just Paused Her Concert To Pay Tribute To Police Brutality Victims
Twitter
It's been a tough day for people around the world after news broke regarding the deaths of Alton Sterling and Philando Castile.
Castile, 32, was fatally shot by a policeman in Minnesota after being pulled over for a broken tail light. Sterling, 37, was killed in Louisiana by police after officers allegedly saw him carrying a gun.
As many celebrities take to their social media platforms to voice their thoughts and prayers for these victims of police brutality, Beyoncé showed her support by holding a moment of silence at her concert in Glasgow.
Behind the 34-year-old singer was a massive screen displaying the names of victims of police brutality. Twitter user @TheAussieSide posted a photo of the tribute.
A fan was able to record a portion of the tribute from the crowd.
Here's a closer look at the list of names displayed. The list ends with "and countless others."
In addition to her tribute to victims at Hampden Park in Glasgow during her Formation World Tour, Beyoncé also took to Instagram to spread some serious knowledge and awareness on America's widespread issue with police brutality and racial injustice.
It seems like Queen Bey is wasting no time turning her anger and frustration into action, starting with this heartfelt tribute.
Take notes!