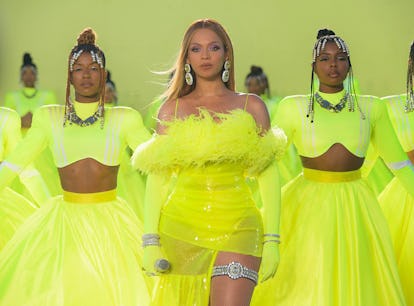 Beyoncé's "Energy" Lyrics Are Boss B*tch Material
"Only double lines we cross is dollar signs."
Handout/Getty Images Entertainment/Getty Images
Beyoncé wouldn't be the icon she is without yet again releasing a boss b*tch anthem. That cadence is peppered all throughout her latest album, Renaissance, especially with her track, "Energy" featuring rapper BEAM. Just shy of two minutes, the hip-swaying record exudes a hypnotic aura that's meant for the dance floor. That sonic ambiance, or in Beyoncé's case, energy, heavily lies in the song's production, which rips a riveting page from her Afrobeat-inspired Lion King: The Gift soundtrack. With ease, Beyoncé rode the rippling beat with some unforgettable rhymes; however, a sample controversy between the singer and Kelis has slightly outshined just how brilliant the track is. Let's dive into the meaning behind "Energy."
BEAM eases in the dizzying number with pure confidence. That necessary flare builds up the anticipation for Beyoncé to work her magic, because devouring verses is just her speciality. In the opening verse, the singer surprisingly gets political, singing, "just vibe, votin' out 45, don't get outta line." This line could be a nod to the 45th President of the United States, Donald Trump, who lost the election in 2020.
She then retires the civic theme for some cheeky lines such as, "only double lines we cross is dollar signs," and "she more Cancún, he more Saint-Tropez / Big wave in the room, the crowd gon' move."
In the chorus, the pulsing beat expands into a full Afrobeat sound complete with drums and a faint, symphonic hum. Similar to the intro, BEAM provides that same mesmeric tenacity, slickly cooing how his energy is worthy of a Kodak moment. "He was on stop mode, got froze / Frozе front page Vogue, no pose / Chat too much, full clip unload / That's that Kodak energy / Energy / Energy / Energy," he raps in the section. That's some big energy, indeed.
Beyoncé returns in the second verse, where her star power is unwaveringly potent. With that sharp melody and blaring horn in the background, the singer proudly flaunts that she knows how to rouse a crowd. She flips the script in the bridge with some taunting rap lyrics that made me shriek in surprise. She coolly reminded listeners that she could definitely take someone's man with ease, singing, "All this good energy got you all in your feelings, feelings / I'm crazy, I'm swearin' / I'm darin', your man's starin'." Whew, the power Beyoncé holds.
She then ends the eclectic bridge by reverting back to her political side. The singer alludes to "Karens" — a title that, as TIME explains, references middle-class white women who harmfully weaponize their privilege against people of color — and how they're transforming into "terrorists." Social media is brimmed with videos of Karens vividly engaging in this trope; however, the most recent example of this behavior would be the storming of the U.S. Capitol by Trump supporters on Jan. 6, 2021.
Being that Beyoncé began the record by referencing Trump's loss of the election, this line could be her way of addressing the unprecedented event. Beyoncé raps, "I just entered the country with derringers / 'Cause them Karens just turned into terrorists." Finally, "Energy" ends with a return to the chorus, where New Orleans bounce legend, Big Freedia, chimes in with some infectious belts.
This track has stirred up more than just some confident energy. Ahead of Renaissance's release on July 29, there was some controversy concerning the song's sampling choice. In the original version of "Energy," Beyoncé interpolated Kelis' 2003 hit, "Milkshake," specifically the iconic "la-la, la-la-, la" melody in the pre-chorus. Pharrell Williams and Chad Hugo, also known as the experimental duo The Neptunes, produced the aforementioned track.
In the credits for "Energy," Williams and Hugo were officially listed as songwriters, while Kelis was noted as having "performed" the sample. This mention caused Kelis to address the record on Instagram, where she called out Beyoncé for not informing her about the sample use in two videos.
"The reality is that my real beef is not only with Beyoncé, because at the end of the day, she sampled a record; she's copied me before, so have many other artists, it's fine, I don't care about that," Kelis said in the first video. She also added that it would have been "common decency" for Beyoncé, or even someone on her team, to reach out and inform her that the sample would be in use.
The "Milkshake" performer then went on to post a second video, where she double downed on her stance. In the caption of the clip, she wrote that her frustration lied "beyond" the interpolation and that she was fed up with certain people in the music industry.
"Milkshake alone is one of the most licensed records of our generation. I am a creator. I'm an innovator. I have done more than left my mark on an era of music and style that will go down in history," she wrote in the caption. "But there are bully's and secrets and gangsters in this industry that smile and get away with it until someone says enough is enough . So I'm saying it today . I'm coming for what's mine and I want reparations . Peace ."
On Aug. 2, Rolling Stone reported that the interpolation was removed from "Energy." In the updated version of the upbeat track, the "la-la" sampling can no longer be heard. Beyoncé has not publicly responded to Kelis' comments on Instagram or the removal of the "Milkshake" sample from "Energy."
Check out the lyrics to Beyoncé's "Energy" below, via the singer's official lyric video on YouTube.
Intro: BEAM
On stage rockin', I'm stir crazy
Cocoa flow like 1980's
Come, let's tell a drop lazy
None of that maybe
Energy
Energy
Energy
Verse 1: Beyoncé
Just vibe
Votin' out 45, don't get outta line, yeah
Ooh, ooh, ooh, ooh, pick a side
Only double lines we cross is dollar signs, yeah
Ooh, ooh, ooh, ooh, hol' up
Wait, I hear you just got paid, make it rain, energy
She more Cancún, he more Saint-Tropez
Big wave in the room, the crowd gon' move
Look around, everybody on mute
Look around, it's me and my crew
Big energy
Chorus: BEAM
He was on stop mode, got froze
Frozе front page Vogue, no pose
Chat too much, full clip unload
That's that Kodak energy
Energy
Energy
Energy
Yeah, yeah
Verse 2: Beyoncé
Gold links, raw denim
You know that we do it grande
You know that I'm gon' be extra
When that camera go, "Pop, pop, pop, pop, pop, pop"
Keep 'em waitin' like dot, dot, dot, dot, dot, dot
Ooh, la-la-la
That's the way dem boys sound when I walk through that block, block, block
Then I uzi that doozie, shot, shot, shot
Bridge: Beyoncé
We was just chillin', mindin' our business
Poppin' our pain and champagne through the ceilin'
Sippin' it up, flickin' it up
All this good energy got you all in your feelings, feelings
I'm crazy, I'm swearin'
I'm darin', your man's starin'
I just entered the country with derringers
'Cause them Karens just turned into terrorists
Chorus: BEAM, Beyoncé & Big Freedia
He was on stop mode, got froze
Froze front page Vogue, no pose
(Yaka-yaka, yaka-yaka, yaka-yaka, yaka-yaka)
Chat too much, full clip unload
That's that Kodak energy
(Go, let's go, let's go, let's go)
Energy
(Yaka-yaka, yaka-yaka, yaka-yaka, yaka-yaka)
Energy
(Go, let's go, let's go, let's go)
Energy
(Yaka-yaka, yaka-yaka, yaka-yaka, yaka-yaka)
Yeah, yeah