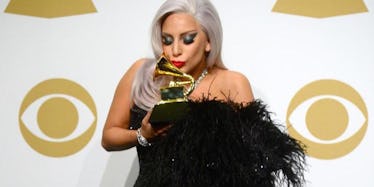 Here Are 10 Of The Best Moments To Happen At Grammys Past
Getty Images
The 58th Annual Grammy Awards are coming up on Monday, and you know what that means: The awards show chaos is about to start up again.
Though infinitely less exciting than the VMAs -- which saw Kanye West practically boo Taylor Swift off the stage, and Miley Cyrus get slammed for grinding on a married man -- the Grammy Awards is, arguably, the most important night in music.
This year's show is set to see performances by Taylor Swift and The Weeknd, and in preparation, we thought we'd take a look at the most memorable moments from Grammys past.
Take a peek below and tune in to the 58th Annual Grammy Awards on Monday at 8 pm ET / 5 pm PT only on CBS.
1. Adele's performance of "Rolling in the Deep" (2012)
I mean, Adele is perfect, so this should come as no surprise. It's also no surprise she took home six gramophones that night. SLAY, Adele.
2. Lady Gaga and Elton John's duet (2010)
Kind of the unlikeliest duo ever (besides, perhaps, Elton John and Eminem [#10]), but, somehow, it totally works.
THAT PIANO? Flawless.
3. This all-star rendition of "London Calling" (2003)
Four of rock's greatest — Bruce Springsteen, Steven Van Zandt, Elvis Costello and Dave Grohl — united to perform this touching tribute to The Clash frontman Joe Strummer, who died the year prior.
4. Pink's gravity-defying display (2010)
Singing in front of millions of people is hard enough, but while hanging mid-air? Props, Pink. Props.
5. MIA's pre-partum performance (2009)
Fun fact: MIA was due to give birth THAT DAY.
6. Christina Aguilera, Pink, Mya and Lil' Kim's rendition of "Lady Marmalade" (2002)
The song, written by Patti LaBelle, is a classic — but that set? Amazing.
This performance also includes appearances from Missy Elliot and Patti LaBelle herself.
7. The Soy Bomb (1998)
Poor Bob Dylan was just minding his business when this shirtless dude jumped onstage. At least he was into the music?
8. Michael Jackson's 10-minute performance (1988)
An oldie but a goodie. Say what you want about MJ, but this video proves how insanely talented the icon was.
9. Beyoncé and Tina Turner's powerful duet (2008)
They slay, OK?
10. Eminem and Elton John (2001)
This has to be THE unlikeliest pairing ever. This performance was memorable because it took place as Eminem was getting slammed by gay-rights groups for homophobic speech on his album, The Marshal Mathers LP.
Performing with Elton John definitely made a (positive) statement.