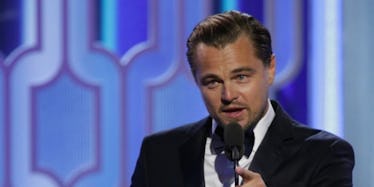 Here's Everything You Missed At The 2016 Golden Globe Awards (Videos)
The 73rd Golden Globes kicked off awards season on Sunday night, and in true awards show fashion, we had no idea what to expect.
Anything is possible in the land of live awards ceremonies, impromptu speeches and ad-libbed comedy bits, and this year's Golden Globes did not disappoint.
Leo took home what was hopefully the first of many awards this season for "The Revenant." Denzel Washington joined a band of elites as the 2016 recipient of the Cecil B. Demille award and Jonah Hill pretty much made a complete fool of himself.
If you didn't catch the show and forgot to record the three-hour affair, fear not. We've got the recap of everything you missed right here.
Denzel Washington solidified his role as a legend in Hollywood.
Denzel Washington received this year's Cecil B. Demille award, a Golden Globe honor awarded to recipients for "outstanding contributions to the world of entertainment."
And when he took the stage with all members of his family except his son Malcolm, who's busy working on his thesis at the American Film Institute, he was, quite literally, speechless.
The 61-year-old actor fuddled with a piece of paper before joking that he forgot his glasses in order to actually read the speech he had written beforehand.
The three-time Golden Globe winner is only the third African-American actor to receive the Cecil B. Demille award, following in the footsteps of Sydney Poitier in 1982 and Morgan Freeman in 2012.
The Legendary Denzel Washington receives the 2016 Cecil B. DeMille Award. #GoldenGlobes https://t.co/wPN1iPIXtJ — Golden Globe Awards (@goldenglobes) January 11, 2016
Brad Pitt and Ryan Gosling gifted us peasants with their witty banter and devastatingly good looks.
When Brad Pitt and Ryan Gosling took the stage to introduce their movie, "The Big Short," it was like a fantasy coming to life.
The two dads looked as handsome as ever and delivered one of the best skits of the night, during which Ryan was clearly annoyed at Brad from the moment they approached the mic.
When Brad inquires about Ryan's beef, Ryan explains he thought he would be presenting by himself but instead ended up sharing the moment with suave Brad Pitt. He joked,
It's fine. Obviously I've been re-cast as some kind of Joe Biden/Andy Richter/Robin-type role, and that's fine. It's fine. I'm here for the movie.
When Brad offered his apologies, saying, "Well, I'm here to support you, so whatever you want," Ryan got even saltier, quipping,
Oh, that's nice. There you go, take the high road so I look petty. Classic Brad. That's just classic, classic Brad.
Their bickering was just adorable, it really was.
"The Big Short" did not take home the award for Best Comedy or Musical Picture, falling behind Matt Damon's "The Martian," but no doubt it remains a contender for the Oscars. Check out the trailer below.
J Law and A Schu proved they should co-host the 2017 Golden Globes.
Although Jennifer Lawrence and Amy Schumer ended up wearing different gowns to the Golden Globes (after J Law got our hopes up saying the new best friends would wear the same thing), they still delivered a treat.
Before the announcement of Best Actress in a Musical or Comedy Picture, the duo took the stage in an untraditional move to introduce both of their films at the same time and poke fun at their friendly competition.
J Law and a shoe -- err, Amy -- so seamlessly ad-libbed in front of the crowd, they should use the bit as leverage to be considered as next year's hosting duo.
Since it's not likely they'll be bringing back Ricky Gervais, the BFFs just might be the next Amy Poehler and Tina Fey.
One thing's for sure: The screenplay these two are working on has even bigger expectations than before.
Jennifer Lawrence and @amyschumer. #BFFS #GoldenGlobes https://t.co/5jsNvvym4C — Golden Globe Awards (@goldenglobes) January 11, 2016
Mark Wahlberg and Will Ferrell called a room of famous people "real buttholes."
If you were fishing for a reason to go see Mark Wahlberg and Will Ferrell's new film, "Daddy's Home," look no further.
Wahlberg and Ferrell reminded us again of their undeniable chemistry while presenting the award for Best Screenplay at Sunday's awards show.
Clearly, the costars haven't stopped partying since New Year's Eve, evident by the 2016 glasses they both refused to take off.
The duo joked the audience wasn't taking them seriously enough, asking the crowd to stop all the laughter, and when the audience giggled even harder, they became even more agitated.
Catch the full bit below.
Sylvester Stallone won and thanked his friend, Rocky Balboa.
Sly Stallone took home his first Golden Globe for the role of Rocky Balboa in "Creed," in which he stars alongside Michael B. Jordan.
Stallone has played the character of Rocky in seven films over four decades, and he made sure to thank his "friend" in his acceptance speech, saying,
Most of all, I wanna thank my imaginary friend, Rocky Balboa, for being the best friend I ever had.
The 69-year-old actor was more shocked than anyone to hear his name called as the winner of Best Actor in a Supporting Role, and when he took the stage to thank his wife, kids, William Morris Endeavor and MGM, he forgot some key mentions.
The Twitter-verse quickly noticed and voiced their surprise at Sly forgetting to thank lead actor Michael B. Jordan and director Ryan Coogler.
Stallone not thanking Ryan Coogler was.... — Vulture (@vulture) January 11, 2016
Well. I'm gonna go ahead and thank RYAN COOGLER + MICHAEL B. JORDAN since no one else is. Thank you, brothers. Good work. #smh #goldenglobes — Ava DuVernay (@AVAETC) January 11, 2016
Apparently, Stallone caught his mistake and rushed back on stage during the commercial break to pay tribute to his "Creed" director and costars. He said,
Couldn't have done this without you. Michael B. Jordan, Tessa Thompson, seriously, you did it all. I just hung on for dear life. You're a genius. Thank you. He deserves all the credit in the world. Thank you.
He also called Coogler "a brilliant, brilliant filmmaker."
Taraji P. Henson gave everyone a piece of Cookie.
Who doesn't love a little Cookie? In both the figurative and literal sense, that is.
Taraji P. Henson became the second black woman to ever win the award for Best Actress in a Drama Series, following last year's winner, Viola Davis for "How To Get Away With Murder."
The role of Cookie Lyon has been a pivotal one for Henson, who proclaimed during her speech she's waited 20 years for this moment.
While making her way to the stage, Henson made a symbolic gesture with a sweet treat, handing out cookies to a handful of stars in the crowd including Lady Gaga and Leonardo DiCaprio.
The 45-year-old actress later joked with Maria Menounos that the cookie offering was emblematic of a contract, and since Leo took the offering, they now have to make a movie together.
.@TherealTaraji wins Best Actress - TV Series, Drama. Let them eat cookies. #GoldenGlobes https://t.co/zSP38iAqbc — Golden Globe Awards (@goldenglobes) January 11, 2016
Leonardo DiCaprio won Best Actor and the whole room went into fangirl mode.
Leonardo DiCaprio received a standing ovation from his peers and colleagues upon being presented with the award for Best Actor in a Drama Picture, and the 41-year-old actor's reaction was priceless.
Moved by the overwhelming showing of respect from the crowd, Leo eloquently expressed his gratitude for all those involved in making "The Revenant" and closed his remarks with an astute political statement.
He said,
I want to share this award with all the First Nations people represented in this film and all the indigenous communities around the world. It is time that we recognize your history and that we protect your indigenous lands from corporate interests and people that are out there to exploit them. It is time that we heard your voice and protected this planet for future generations.
Leo has been a Golden Globe nominee 11 times and has taken home the award for Best Actor in the past three consecutive awards ceremonies for his lead roles in 2013's "Django Unchained," 2014's "The Wolf of Wall Street" and 2015's "The Revenant."
They say third time's a charm, and we'd bet his success at the Globes indicates Leo is poised to receive his very first, long-overdue Oscar this year.
.@LeoDiCaprio wins Best Actor - Motion Picture, Drama for @RevenantMovie. #GoldenGlobes https://t.co/odFWVhrDFG — Golden Globe Awards (@goldenglobes) January 11, 2016
Jim Carrey came out of the woodwork to let us know he's still the funniest guy in the room.
Jim Carrey made his first appearance since the death of girlfriend Cathriona White in September to present the award for Best Motion Picture, Comedy or Musical at the 2016 Golden Globes.
Totally forgoing the red carpet, Carrey appeared on stage donning a grizzly beard and wide smile, both of which we were damn happy to see for the duration of his quick bit on the irony of the awards show.
Putting it all into perspective, the 53-year-old comedian offered some quality humor as one of the best presenters of the night as he joked about the importance of all this and how, in the grand scheme of life and the universe, it doesn't really matter at all.
His stance and classic Jim Carrey delivery made for a refreshing moment among all the new-age hoo-ha.
Jonah Hill tried to make fun of "The Revenant" and flopped pretty hard.
Jonah Hill made an aggressive attempt at making his presence among award nominees known, tackling a weak bit like the bear that tackles Leo DiCaprio's character in "The Revenant." In fact, he did the bit as that very bear.
What could have been funny went from early high expectations to minimal, muffled laughter from the audience and very audible giggles from Channing Tatum standing stage left.
Before announcing the winner for Best Actress in a Supporting Role, Hill delivered a strange speech which included several curse words and remarks about attacking studio heads.
It was all very odd and painful to watch.
Channing Tatum's hair got its own PR team.
This one speaks for itself.
Check out the full list of nominees and winners from the 2016 Golden Globe Awards right here on Elite Daily.