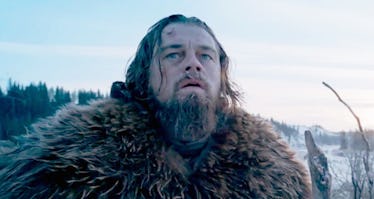 Leo DiCaprio Made A Powerful Political Statement At The Golden Globes
20th Century Fox
On Sunday, Leonardo DiCaprio won the Golden Globe for Best Actor in a Motion Picture, Drama for his role in "The Revenant."
Leo stole the show a number of times throughout the evening, but he truly shined during his acceptance speech for the award.
The immensely talented actor finished his speech with a powerful political statement about indigenous peoples. He said,
I want to share this award with all the First Nations people represented in this film and all the indigenous communities around the world. It is time that we recognize your history and that we protect your indigenous lands from corporate interests and people that are out there to exploit them. It is time that we heard your voice and protected this planet for future generations.
DiCaprio's remarks were not only eloquent, but extremely appropriate given the film depicts Native Americans and stars actors of indigenous descent.
It's rare for the worlds of politics and entertainment to collide, and when they do things can get messy.
But DiCaprio made some very valid and important points, and he came off as intelligent and genuine. His speech was well received by the audience.
Many also took to Twitter to applaud his impassioned and apt words.
Indeed, Leo won the Internet tonight.
Much respect to Leonardo DiCaprio for shouting out indigenous ppl & need to protect their lands against corporate interests #GoldenGlobes — Dena Takruri (@Dena) January 11, 2016
Leo de Caprio channeling @NaomiAKlein in his eloquent words @goldenglobes- honoring rights & history of indigenous people, first nations — Katrina vandenHeuvel (@KatrinaNation) January 11, 2016
With his shoutout to First Nation communities and recognizing indigenous people, Leo got political in exactly the right way. #GoldenGlobes — Caroline MT (@CaroMT) January 11, 2016
Alright, props to Leo for recognizing indigenous peoples. One of the only socially conscious things said all night. #GoldenGlobes — Zack Ford (@ZackFord) January 11, 2016
Leonardo DiCaprio stays woke...speaking truth to power about indigenous people and their land. #GoldenGIobes — Janet Mock (@janetmock) January 11, 2016
"The Revenant" tells the story of Hugh Glass (DiCaprio), an intrepid frontiersman who explored the American wilderness in the 19th century. It's a tale of survival against impossible odds, and Leo obviously did a tremendous job portraying Glass.
At the Golden Globes, DiCaprio once again proved he's not just a fantastic actor, he's also an individual who cares deeply about the world and its diverse array of people.
Watch DiCaprio's full speech below.
.@LeoDiCaprio wins Best Actor - Motion Picture, Drama for @RevenantMovie. #GoldenGlobes https://t.co/odFWVhrDFG — Golden Globe Awards (@goldenglobes) January 11, 2016