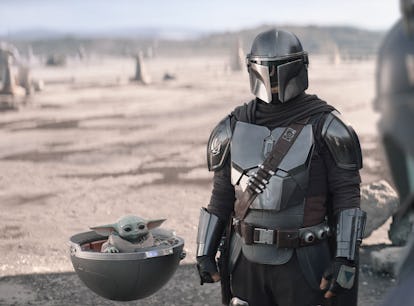 Disney+ Dropped So Many Must-Watch Movies & Shows This Month
That Mandalorian finale, though!
Disney+
Disney+ really was the place for TV lovers to camp out all of April 2023. Throughout the month, the streamer dropped even more eye-catching projects than usual, including magical new live-action remakes of classic Disney movies, a closer look into the life of a K-pop megastar, as well as massive finales for a couple of fan-favorite shows. If you're looking for what to stream next, check out this list of all the best movies and shows that Disney+ released in April for some fresh excitement.
One of the biggest documentaries to land on Disney+ this month was SUGA: Road To D-Day, which is a must-watch for anyone in the BTS ARMY. The personal doc follows BTS star Suga as he crafts his recently released solo album D-Day. BTS is known for sharing very revealing and authentic moments with their devoted fans, but Suga lets ARMYs in on an even deeper level through this doc.
At the end of the month, Disney+ will also drop its highly anticipated live-action Peter Pan remake. Peter Pan & Wendy boasts some serious star power in very well-known roles, with Jude Law as the villainous pirate Captain Hook, and Yara Shahidi sprinkling her pixie-dust as Tinkerbell.
But perhaps the buzziest releases from the streamer in April were its two major finales. The Mandalorian's Season 3 finale had the whole internet talking. And Disney+ also added the last-ever episode of The Owl House, an hourlong special resolving the magical story of the beloved animated series.
Here's a comprehensive look at everything Disney+ added to its library in April:
April 2
The Ghost and Molly McGee Season 2 (5 episodes)
April 5
The Mandalorian Season 3, Episode 6
Journey to the Center of the Earth
The Crossover
Wicked Tuna: Outer Banks Showdown (Season 1)
April 9
The Owl House Season 3, Episode 3 (Series Finale)
April 12
The Mandalorian Season 3, Episode 7
Dr. Oakley, Yukon Vet (Season 11)
It's All Right!
Kiff Season 1 (5 episodes)
Marvel's Moon Girl and Devil Dinosaur Season 1 (5 episodes)
Rennervations
April 14
April 19
The Mandalorian Season 3, Episode 8 (Season Finale)
Raven's Home Season 6
Big City Greens Season 3 (4 episodes)
Hamster & Gretel Season 1 (4 episodes)
PJ Masks: Power Heroes Season 1 (7 episodes)
April 21
April 22
April 26
Dino Ranch Season 2 (5 episodes)
Going Fur Gold (Season 1)
Matildas: The World at Our Feet
Saturdays Season 1 (5 episodes)
Star Wars: Young Jedi Adventures
April 28
Don't have Disney+ yet? You can sign up here.