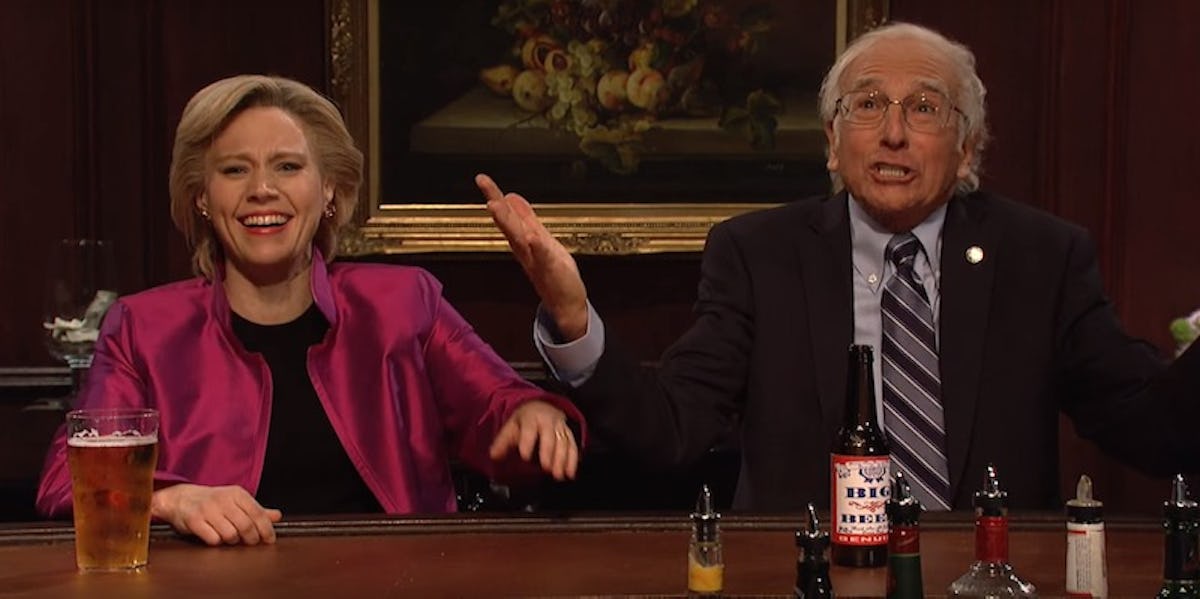 Hillary And Bernie Hilariously Recap The Democratic Primary In This 'SNL' Skit
YouTube
I could always watch Kate McKinnon and Larry David play Hillary Clinton and Bernie Sanders, respectively. These two are already independent comic geniuses, and when you put them together, you get comedic gold.
The "Saturday Night Live" political skit takes place in a bar where Hillary and, as you quickly find out, Bernie are simultaneously hanging out for drinks. Bernie joins Hillary at the bar, and the jokes ensue.
Now, I can't stress how much I'm not exaggerating when I say this: Every joke is on point.
Seriously, kudos to the writers at "SNL" because every joke pokes fun at some aspect of the two Democratic candidates for president, whether it's Hillary's lack of charm and panache or Bernie's refusal to get out of the race.
There's a short bit about Bernie's comments on Hillary's emails, and it actually gets you to think for a second about what might have happened if Bernie had pressed the private email server issue instead of backing off as he famously did in one of the debates.
So, not only is the skit damn funny, it's also pretty perceptive about the various twists and turns of the Democratic primary race. There are jokes about the race being rigged as well as the complicated delegate awarding process.
Truly, this sketch will basically catch you up on the last 12 months of the Democratic side of politics.
I should've known it would be a high-quality skit, given this episode was the "SNL" season finale and thus probably the last time people would be hearing from both McKinnon as Hillary and David as Bernie.
Anyway, the whole sketch is great, but two of the best jokes come early on when Bernie and Hillary order their drinks, and their lines let you know what kind of skit you're watching. The two jokes are simple and straightforward, but nonetheless hilarious.
When Bernie goes to order, he says,
I'll have a beer, a new brand that people are flocking to, something refreshing and revolutionary, something that draws huge crowds.
In response, Hillary says,
I'll have whatever beer no one likes, but gets the job done.
The skit closes out with a dance worth three superdelegates and a hilarious zinger from Hillary about who will lead the dance.
You have to hear the jokes and watch the comedians for yourself because the words just don't do the jokes justice. Check out the entire clip at the top.
Citations: Bernie and Hillary share a last dance on 'SNL'... for three superdelegates (Mashable)