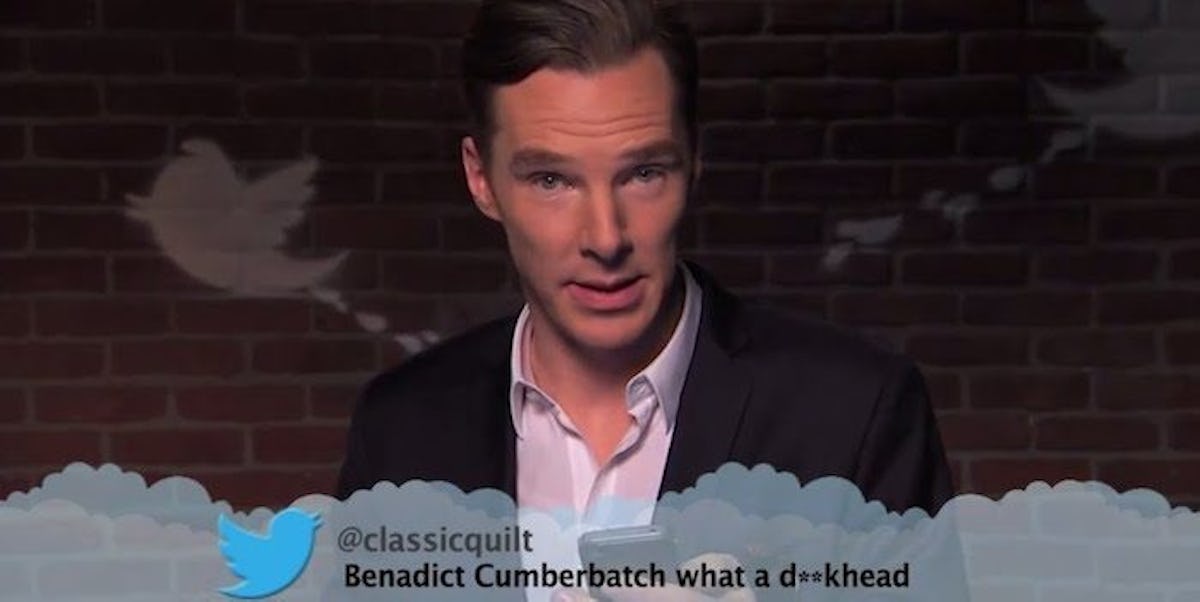 Benedict Cumberbatch Had The Best Response To A Mean Tweet About Him (Video)
Jimmy Kimmel's mean tweets segment is always super entertaining.
It's apparently mean tweets week, so Kimmel is bringing several celebrities on stage and having them read aloud the mean comments people write about them on Twitter. It's a good time for everyone, really.
Jeff Bridges, Kristen Bell and Benedict Cumberbatch joined in for the special.
However, Cumberbatch had the absolute best response to one of the mean tweets about him.
The mean tweet about him said,
If you find Benedict Cumberbatch attractive, I'm guessing you'd also quite enjoy staring directly at a [cat's] anus.
After a quick laugh, Cumberbatch responded, "Well someone did, and she put a ring on it," and then stuck his ring finger in the air to show off his wedding ring.
Ah, Benedict, you are not only insanely good-looking, but you're hysterical, too. Thanks for destroying that Internet troll and making us laugh.
BTW, you look nothing like a cat's anus... If anything, you're a majestic British unicorn. Yeah, that suits you better.
Be sure to check out his comeback in the video above!
Citations: Benedict Cumberbatch Had The Perfect Response To Mean Tweet Comparing Him To A Cat Butt (Refinery29)