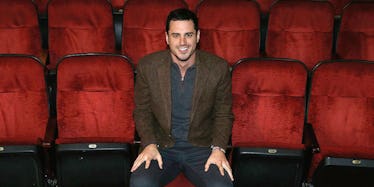 'Bachelor' Ben Higgins Breaks Silence On 'Bachelor In Paradise' Controversy
Photo by John Lamparski/Getty Images
In the aftermath of halting production for Bachelor In Paradise, many Bachelor and Bachelorette alumni have been speaking out on social media, weighing in with their personal experiences and opinions.
Reports surfaced this week that a producer on set for BIP reported sexual misconduct between two castmates, and the filming of the upcoming season (featuring fan favorites like Raven Gates, Corinne Olympios, and DeMario Jackson) has been canceled indefinitely.
Update: On June 14, DeMario Jackson gave E! Online the following statement about the Bachelor in Paradise suspension and claims about his involvement: 
"It's unfortunate that my character and family name has been assassinated this past week with false claims and malicious allegations. I will be taking swift and appropriate legal action until my name is cleared and, per the advice of legal counsel, will be seeking all available remedies entitled to me under the laws."
Earlier: Elite Daily reached out to Warner Brothers for comment and received this statement:
We have become aware of allegations of misconduct on the set of Bachelor in Paradise in Mexico. We have suspended production and we are conducting a thorough investigation of these allegations. Once the investigation is complete, we will take appropriate responsive action.
Allegedly, contestants Olympios and Jackson were heavily drinking in a pool when they began to engage in sexual, physical activity.
Elite Daily reached out to DeMario and Corinne's teams about the reports but did not hear back at the time of publication.
The producer who reported the incident claims additional producers for the show were egging them on, as reported by ET Online.
Now former Bachelor Ben Higgins is speaking out about the controversy, saying he never felt pressured or forced into anything during the shooting of The Bachelor.
Entertainment Tonight reports Ben explained his experience on his iHeartRadio podcast, Almost Famous. He reportedly said,
I was never forced into anything. I was talked through as a friend in situations. If I was confused, they would sit with me and allow me to speak my mind and help me process... Yes, there is producing that is done. It's a show! There are situations that happen that they need to get something out of, but it's never a forced situation.
Additionally, Ben noted that while there is often great speculation from viewers that the entire season and plot could be pre-planned, that is not the case. He said,
The storyline makes itself up each and every day during the process of filming The Bachelor, The Bachelorette and Bachelor in Paradise.
Both Corinne and DeMario have allegedly been shown footage of the said incident and are still in touch,according to Entertainment Tonight.
For his part, host Chris Harrison is hopeful the show might be able to resume filming.
In a statement to ET he said,
The safety and care of the cast and crew of our show is of the utmost importance to us. It is with this thought in mind that we made the decision to suspend filming. It is my sincere hope that we can come to a quick resolution on this and get back to work very soon.
We'll have to wait and see what happens.