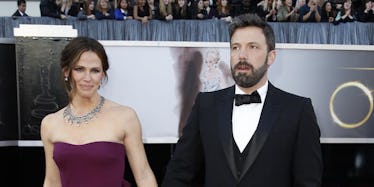 Here's Evidence Ben Affleck And Jennifer Garner May Be Getting Back Together
REUTERS
An entire year has gone by since Ben Affleck and Jennifer Garner went their separate ways. Except they didn't really, did they?
They're frequently pictured together, and more and more questions are being raised about the likelihood of the power couple officially getting back together.
There's plenty of evidence stacking up for and against a happily-ever-after. So let's break down the evidence:
Evidence AGAINST a reconciliation
The Nanny: Remember this? Their 10 year marriage broke down around the same time rumors surfaced that Ben was having an affair with their children's 28-year-old nanny.
Ben's tattoo: The actor got that massive Phoenix rising from the ashes inked on his back. That's a pretty big "born again" metaphor that we can't ignore. Surely it's a sign he moved on.
Evidence FOR a reconciliation
"Wife": Only last week Ben referred to Jennifer as his wife on HBO's "Any Given Wednesday With Bill Simmons."
They still live together: Isn't this the biggest giveaway? Reports have been circulating that Ben's been living at the family home in Brentwood, California, ever since the split -- but in separate quarters.
They're constantly with each other: It's all so obvious. We know they have children, but the couple is routinely pictured on family days out together -- far more than any other split celebs -- and even on international vacations.
"Love of my life": During an post-breakup interview with Vanity Fair, Jennifer spilled, "I didn't marry the big fat movie star; I married him. And I would go back and remake that decision. He's the love of my life. What am I going to do about that?"
Haven't filed for divorce: Yeah, according to ET the couple never actually filed for divorce, and a source claims they are "making it work."
At the end of the day, we can't officially confirm or deny they're still in love. All we're saying is look at the evidence. AND THEN SCREAM WITH EXCITEMENT.