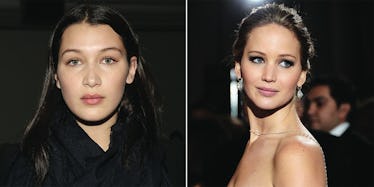 16 Times Bella Hadid And Jennifer Lawrence Were Actually Twins (Photos)
Getty Images
Bella Hadid and Jennifer Lawrence are probably two of the most gorgeous people to walk the face of the earth.
Beyond that, Bella is only 19 years old and already has a successful modeling career, and J-Law is a 25-year-old Oscar-winning actress. The two women are not only beautiful but incredibly talented.
I'm not quite sure why it's taken me this long to realize how similar Bella and J-Law look. It's not something you notice right away, but once you make the connection, it's hard to not see it.
Jennifer has also had blonde hair for quite a while now, and Bella's a dark brunette. But hair color aside, these women can honestly pass for sisters.
To prove it to you, I've gathered 16 photos that show how similar Bella and J-Law really look. By the end of this post, you won't know who's who, I guarantee it.
1. Let's start right here with this stunning photo of Bella just chilling in bed. Really take it all in for a sec. Do you have this image burned into your mind? Ready? Keep scrolling.
2. Now here's J-Law giving us a look that bears a striking resemblance to Bella's photo. Not convinced? Keep reading.
3. Check out this v. nice pose by Bella. Really pay attention to her serious expression, lips and cheekbones. Got it?
4. NOW LOOK AT J-LAW. DO YOU SEE WHAT I MEAN? If you're shaking your head at me RN, keep reading. I promise it gets better.
5. Here's Bella again... or is that Katniss Everdeen? Hmm, I'm not sure. Are you confused, too?
6. Here's J-Law, or is that Bella on the runway? WOW, I have no clue. Don't ask me!!!!
7. Here is another picture of Jennifer back when she had her long, brown hair. She's JC with no makeup on, it's whatever.
8. And here we have Bella, also JC with no makeup on. EVEN WITHOUT MAKEUP THEY LOOK LIKE TWINS. I swear these girls came from the same womb, it's the only plausible explanation.
9. Watch this video of Bella transforming into J-Law right before your eyes. As soon as she puts that food in her mouth, BOOM. Hello Jennifer, welcome.
10. OK, now let's just look at these two faces straight on. Bella...
11. ...J-Law. SCROLL BACK UP AND COMPARE THE TWO. I'M NOT LOSING MY MIND, THIS IS REAL.
12. GUESS WHO THIS IS. IS IT BELLA OR JENNIFER? You have no idea, do you? DO YOU?
13. Surprise, it's Bella. Yeah, they share the same freaking profile. It's insane.
14. If you don't see it by now, then maybe you should get your eyes checked. Bella is wearing a blonde wig, for God's sake. THEY'RE IDENTICAL.
15. CAN SOMEONE DO A DNA TEST OR SOMETHING?!?!?!
16. OMG. Yup, I'm done. Case closed, goodbye.