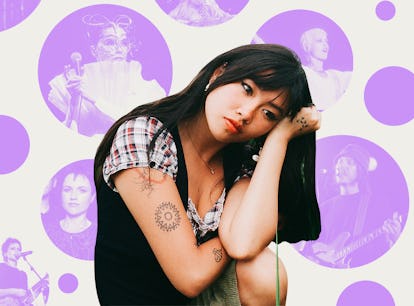 How Björk, Elliott Smith, & More '90s Artists Inspired Beabadoobee
Plus, her reaction to the moment Taylor Swift dedicated a song to her on the Eras Tour.
Lais Borges/Elite Daily; Photo by Jake Erland; Getty Images
In Elite Daily's series Early Influences, artists reflect on the songs and albums that left a lasting impression on them in their formative years. Here, Beabadoobee shares the artists whose work shaped her sound, inspired the music on her latest album, Beatopia, and led her to "Glue Song."
When Beabadoobee was in the process of making her genre-spanning sophomore album Beatopia, her only rule was not to have any rules at all. No rules, zero boundaries — just the unbridled freedom to experiment with sounds, instruments, and psychedelics.
"I wanted every song to sound completely different," the 22-year-old tells Elite Daily. It's been her guiding creative ethos since the album dropped last summer. Upon the release of "Glue Song" this past February, Beabadoobee, whose real name is Bea Kristi, has been blissed out. You can hear it in the track's lovesick lyrics and sweet melody. (Her bedroom-pop contemporary Clairo hopped on a new version of the single, out this week.)
These days, the "Last Day on Earth" singer has a lot to be happy about. In addition to playing a series of headlining concerts across the U.S. and joining the summer festival circuit, Bea has also been opening for Taylor Swift on the Eras Tour. It's the Filipino-British singer-songwriter's first time playing in stadium venues. "It's kind of sh*t scary in the stadium, but also the most exciting thing I've ever done in my life," she says from her tour bus in Texas. She's casually doing her nails during our interview, having to multitask while on the road. "Getting to watch Taylor Swift shows live every night is just so sick. I get super overwhelmed and excited and then get to have a little breather to play my own shows. So there's been a really nice separation."
As if playing for tens of thousands of Swifties night after night isn't exhilarating enough, Taylor surprised Bea with a special shoutout after her first night on the Eras Tour by dedicating her performance of "Our Song" — one of Bea's favorite Taylor tracks — to her opening act.
"I felt like I was going to vomit and cry and sob and sh*t my pants all at the same time," Bea recalls. "It was crazy. I just didn't expect it. The fact she said that this was for young Bea, this is healing my inner child. It's healing all my issues and problems."
Known for her honest lyricism and deep appreciation for the music and lo-fi visual aesthetics of the '90s and early 2000s, Beabadoobee has been steadily making a name for herself since her 2017 release "Coffee," which went viral on TikTok in 2020. Now with two studio albums under her belt, she's closer to making a sound of her own, one that is still very much influenced by the artists she grew up with, like her mom's favorite British alt-rock bands and the distinctive Filipino melodies of APO Hiking Society. "Obviously, all I'm going to write are love songs," she laughs. "This is what I grew up on."
Below, Beabadoobee tells Elite Daily how the '90s inspired her sound and why the work of Elliott Smith has influenced an entire generation of songwriters to confront their feelings.
The Sundays
It's easy to get lost in the soft lilt of Beabadoobee's voice. Those stripped-down arrangements allow it to take you on an emotional journey, meandering through her thoughts and feelings without being too over the top. Her delivery is delicate; its power lies in its instinctiveness.
Beabadoobee says she looked to vocalists like Harriet Wheeler, the understated lead singer of the English alternative band The Sundays, to learn what her voice could do.
She was first introduced to The Sundays by her mom — the person she credits with getting her into music — and later rediscovered them through her best friend and touring guitarist, Jacob Bugden, who co-wrote many of the songs on Beatopia. At the height of the pandemic, she began listening to them "consecutively every single day" during London's lockdown.
"I spent a whole night listening to 'Summertime' on repeat, singing along and trying to sound like Harriet Wheeler," she recalls. She mimicked Wheeler's enchanting vocalizations and pronunciation, diving deep into blue notes that made the band's music so compelling. "I just got so obsessed," she says. "I was hyper-fixated on the fact that Harriet Wheeler was completely perfect to me, and her voice was the most perfect thing I've ever heard in my life."
The Cranberries
A lot of the singer's most formative music memories happened in her mom's car. She affectionately describes her mom as a bit of a fangirl, someone who listened to everything from Echo & the Bunnymen to Jesus and Mary Chain to Depeche Mode. Her mom had a special fondness for The Cranberries, especially its frontwoman, Dolores O'Riordan. But Bea took interest in the Irish rock band's instrumentation.
"I just love how jangly the guitars are," she says. Her dad bought her a guitar when she was a disgruntled teen, and she learned to play by watching YouTube tutorials. You can hear The Cranberries' influence on "She Plays Bass," a fuzzy cut off her 2019 EP Space Cadet. "I wrote that during a time where I was listening to a lot of The Cranberries and a lot of The Cure," Bea explains, adding, "Those are literally the only two bands I listened to for ages."
Elliott Smith
There's an intimacy to Bea's songwriting that resonates with young people looking for meaning in mundanity. It's authentic in its simplicity. She doesn't hide behind convoluted metaphors and lyrical turns of phrase; she bears her truth for all to see. Among the songwriters who have inspired her work, Elliott Smith is always at the forefront of her mind. Having first heard his music in the film Good Will Hunting, Bea now wears her love for the "Miss Misery" singer on her right arm, where the letters "XO" are tattooed on her skin. (XO is the title of Smith's 1998 studio album.)
"I can't even watch live videos of him on YouTube because it makes me cry," she says. "It honestly just makes me so emotional, especially knowing how sad he was… You could see in his face, how passionate he was with his music, he didn't give a f*ck about anything else. But you could tell that he used music like a diary to help him understand his life a bit better. That's what I do with my music. That's why he's such a major influence to a lot of musicians."
In many ways, her album Beatopia is a conversation she's having with herself; she's reckoning with things of the past and coming into her own in the present. It's a healing journey.
As a teen, and even now, Bea was deeply moved by Smith's own ruminations of the past. One of her favorite songs is "Everything Means Nothing to Me." She says it's the way "he says that over and over and over again" over a simple piano melody until the drums kick it. "It's a wall of sound, like your inner thoughts consuming your entire brain," she says. "It's really haunting… I just always remember listening to his music during high school and crying in my bed."
Björk
Before Beatopia was an album, it was an actual imaginary place that 7-year-old Bea dreamt up to escape reality. Beatopia was an expansive universe with its own alphabet, countries, and customs — a world where Bea was free to be herself. It's not a surprise then that she'd cite a singular visionary like Björk as one of her key influences. The iconic Icelandic singer-songwriter has been living in her own world for decades.
Björk's music is genreless, pulling references from electronica to jazz to psychedelia in order to create her own sonic language. "She referenced a lot of music in her music but managed to make a complete unique sound of her own and just was pretty f*cking badass doing it," Bea says. Similarly, Beatopia explores a range of sounds — from the breezy R&B of the early aughts ("Sunny Day") to hyper pop skittering ("Tinkerbell Is Overrated") and gentle bossa nova ("The Perfect Pair") — to construct her very own artistic identity.
Beyond the music, Björk has also inspired some of Bea's life choices. "She made me cut a fringe," she says, referring to her wispy blunt bangs, "and dye my hair black, back to my natural color." In order to achieve the look, she showed her hairdresser a photo of Björk from the 2001 Oscars red carpet, the one in which she wore the infamous swan dress.
"She's unapologetically herself and just doesn't give a f*ck," Bea says. "If anyone else wore that it probably wouldn't bang as hard. But the fact that she wore it, and she looked sick, how did she do that?"