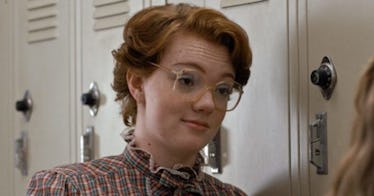 Barb From 'Stranger Things' Opens Up About What Fans Can Expect From Season 2
Netflix
When the trailer for the second season of "Stranger Things" dropped in February, my heart actually stopped beating. I felt like I was gonna pass out.
Saying I love this show is an understatement: I actually can't get enough of it. I binge-watched season one so hard, I learned I could go a solid 28 hours without peeing.
Pretty impressive, right? Haha, thank you, thank you, but this isn't about me... it's about Barb.
OH, YOU KNOW... BARB.
It's pretty clear at this point Barb is one of the most lovable characters on the show, which is why we're all losing sleep until justice for her is served.
Nancy Wheeler's BFF went missing mid-way through the first season, and we fans won't be OK until we get her back.
Elite Daily was able to speak with 19-year-0ld Shannon Purser – the actress who plays Barb in the series – to talk about her character and what fans can expect from season two.
We met Barb at the after-party for "American Express' Platinum celebration" on Saturday, April 1. Amex Platinum hosted an exclusive takeover of "Hamilton" – which was BOMB, by the way – and then closed the night with a performance by Icona Pop.
Several celebs were in attendance – from Cara Delevingne to Zosia Mamet – but we spent our time chatting with our new BFF, Shan.
I first asked the actress about the overwhelming amount of attention her character has received from the show: People are OBSESSED with Barb.
Shannon explained,
I still don't really believe it... I mean, it was really strange because I had the time of my life and was just excited to be a part of it, and you know, for a few weeks after it came out, nothing happened which is kind of what I expected, and then all of a sudden all these tweets start flooding in... 'What happened to Barb?' 'Justice for Barb!' 'OMG where'd she go?' and it was so surreal, but it means the world to me because it's given me so many opportunities since.
That is pretty "strange." LMAO, get it? Barb, you crack me up.
I then wanted to know what we can expect from Barb in season two... like, you know, IS SHE ALIVE?!
Shannon told me,
I honestly do not know anything... I know the vague statement that there will be justice for her, but besides that, no one will tell me anything, so I'm in the dark.
ALL RIGHT, ALL RIGHT.
Justice will be served... I'll take it. Just wanna have Barb's back, ya feel me?
Shannon also got me super pumped for season two when she said,
From what I've heard, if we thought season one was intense, season two [will be] even more... It's gonna be a crazy ride from start to finish.
BARBBBBB, you're killing me. The suspense!
We also wanted to know what Shannon's favorite moment from the first season was. She shared she loves "the friendship dynamic between all the kids."
She added,
I think it's so precious... so like that moment when they're all in that group hug together, I thought it was very sweet.
Dustin, Mike, Lucas and Eleven are everything to me. I want to join their squad more than I want to eat breakfast, and I'm pretty damn hungry right now.
Before we said bye to Shannon, I asked her what it was like to shoot the gruesome scene where we see her ~possibly dead body~ being taken over by the Demogorgon.
You know, this one:
Barb shared,
It was crazy... my makeup artist would come and squirt gross baby food into my mouth before every take because I had to cough it up. It was pretty gross... it was like banana I think... they put slime and everything so that was a long day. I did most of my stunts too, so I definitely had some bruises after, but it was the coolest thing. I stepped back and followed the cameras and everyone around there working so hard just to make sure everything went smoothly... it's so crazy.
Banana baby food kind of sounds good, no?
Oh, hmm... just me? OK.
Overall, it sounds like Shannon is extremely happy and blessed to be a part of this experience:
I think we're all very proud of it, but none of us imagined it would blow up like this.
We're proud of YOU, Shannon. We're proud of you.
"Stranger Things" season two will be coming out around Halloween 2017, so do your best to keep it together until then.
Thanks for a great talk, Shannon, and thanks AMEX, for an incredible night!